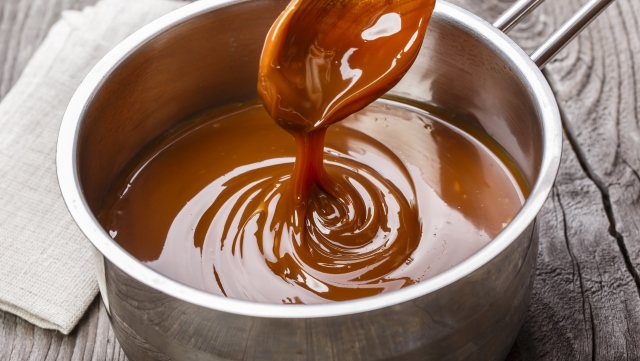 (PMCA — November 2017 — Bethlehem, PA) — In early November, Savage Bros. Company, equipment manufacturer located in Elk Grove Village, IL, served as the host facility for PMCA's Caramel Fudge and Toffee short course.
This was the first time PMCA hosted a course at this facility, which required the association to alter, quite successfully, the traditional format of the course. Savage Bros. purchased and renovated a new building two years ago, which includes a classroom adjacent to a demo room specifically to provide another resource for educational opportunities for the industry.
Mark Heim, a 38-year veteran of the confectionery industry and formerly with the Hershey Company, and Randy Hofberger, a 35-year veteran of the industry and formerly with Nestlé, led both the classroom and hands-on experiences. Course topics included component and ingredient variables, processing fundamentals and troubleshooting for the production of caramel, fudge and toffee products.
Participants in the course had the opportunity to prepare a variety of caramel, fudge and toffee products. Experimenting with several different recipes, participants learned the effects of various ingredients on the resulting taste, color, texture and overall quality of the product. The course included equipment demonstrations, videos and a tour of the Savage Bros. facility. An extensive evaluation of the products produced was conducted throughout each day of the course.
Student Commentary:
"Excellent – instructors are such a wealth of knowledge!"
"Amazing course."
"Well done – would definitely come back."
"Enjoyed the course and would recommend it to others."
STUDENTS EARNING A CERTIFICATE OF COMPLETION
Charlie Albrecht, Savage Bros. Co.
James Armstrong, DeMet's Candy Company
Lindsey Augusta, Malley's Chocolates
Omar Castano, Toronto, ON
Sebastian Clemens, Bühler
Megan Coffey. Victus Ars Inc.
Erin Crane, DeMet's Candy Company
Jacob Fay, PROVA, Inc.
Zachary Freed, AAK
Denise Germain, Galloway Company
Michael Hasler, Galloway Company
Sarah Khan, Reach Organics
Darlene Kramer, Blabbermouth Chocolates
Peter Lind, Lake Champlain Chocolates
Nadia Murray, Sconza Candy Company
Bill Proksa, Savage Bros. Co.
Sara Samala, Gertrude Hawk Chocolates
Kevin Straub, Creo Chocolate
Josh Wegner, Demet's Candy Company
DONATIONS OF INGREDIENTS, EQUIPMENT, SAMPLES & SUPPLIES
AAK
ADM
Cargill
Ciranda
Foremost Farms
Galloway Company
Ingredion
Nuts.com
Roquette America
Savage Bros. Co.
Shank's Extracts
About PMCA
PMCA is an international organization that enhances the companies and careers of confectionery and snack professionals through inspired learning and the building of long-term personal connections, which empowers our members to create products that bring people joy.