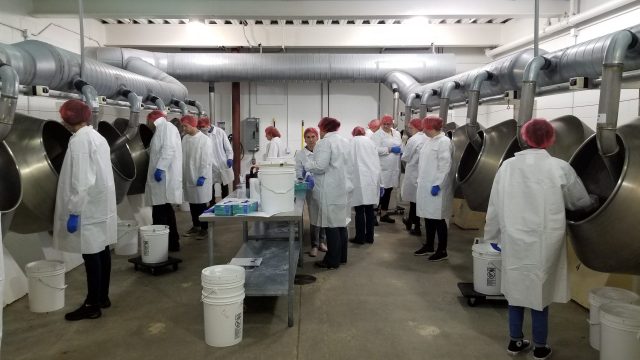 (PMCA — November 6, 2022) — First-time course host Paulaur Corporation in Cranbury, NJ welcomed industry professionals to its facility for a Panned Confections Course. Students representing a variety of companies participated in the course held October 25-28, 2022.
Five experienced and highly-skilled instructors provided a mix of classroom and practical training related to panning basics, chocolate, hard and soft panning, as well as polishing and finishing. Each student received a course book as well as electronic copies of presentations and took home a variety of sample product they made with their fellow attendees.
Attendee commentary:
"Based upon the audience (lots of new people to industry or people changing roles), this gave us all a great appreciation for the products and processes required to make a candy on a production scale."
"Fun experience. Overall, the course was informative and gave a great insight into the intricate details of panning and polishing sweets."
Attendees earning a certificate of completion:
Jake Andrews, Signature Brands
Danielle Belon, Hormel Foods
Alexandria Bromley, Colorcon
Kim Bumgarner, Hormel Foods
Tony DePrado, Parker Ingredients
Michael Fattah, Truffly Made
Anna Francis, Mane
Mike Gilbert, Colorcon
Carrie Goodspeed, Signature Brands
Michael Grise, Ghost Kitchen Concepts LLC
Lala Grise, Ghost Kitchen Concepts LLC
Leslie Mora, Paulaur Corporation
Daisy Vinanzaca, ofi
Natalie Myers, Colorcon
Tracy Pace, Signature Brands
Eric Pehr, Blommer Chocolate Company
Percy Pingpoh, Paulaur Corporation
Amanda Rusch, Paulaur Corporation
John Ruzsilla, IFC Solutions
Nicole Sanchez, The Hershey Company
Tim Straub, Creo Chocolate
Brianna Thomas, Signature Brands
Riley Trethewey, Signature Brands
Kristin Troester, Puratos
David Walker, Signature Brands
Cara Watkins, Blommer Chocolate Company
Amanda Zadroga-Cantada, ADM
PMCA is grateful to the individuals and companies that graciously donated instructors, ingredients, products or other items to the success of the course as follows:
Instructors:
Michelle Frame, Victus Ars – Course Lead
Elizabeth Hagerman, The Hershey Company
AJ Khoury, Capol
Eric Schmoyer, Barry Callebaut
Michelle Schwenk, Bellis Food Solutions
Bridgette Love-Shaw, Victus Ars – Course Assistant
Judy Wang, The Hershey Company – Course Asistant
Donations of ingredients, equipment, samples and supplies:
Barry Callebaut
Bellis Food Solutions
Blommer Chocolate Company
Capol
Centerchem
The Hershey Company
IFC Solutions
Just Born
Sun-Maid
Sunsweet
Victus Ars
Weaver Nut Company
About PMCA
PMCA is an international organization that enhances the companies and careers of confectionery and snack professionals through inspired learning and the building of long-term personal connections, which empowers our members to create products that bring people joy.