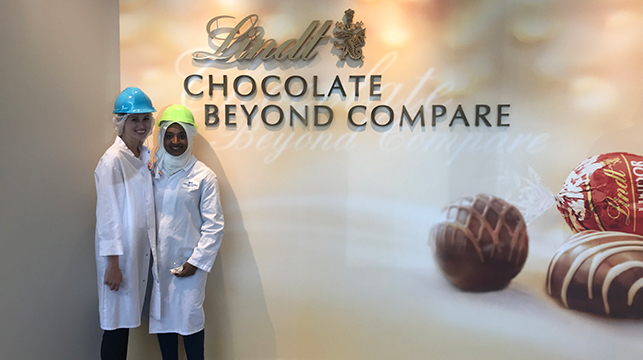 (PMCA — August 12, 2019) — For two days in Stratham, NH students Anna Johnson, University of Wisconsin – Madison and Ghadeer Makki, Cornell University had the opportunity to get a taste of life in a chocolate factory!
Anna and Ghadeer were eligible for the experience through PMCA's Student Outreach Program, chaired by Carly Meck, Blommer Chocolate Company. Lindt & Sprüngli hosted the experience July 23 and 24, which included a look at various facets of the manufacturing process, a factory tour, a live chocolate tempering demo by Master Chocolatier Ann Czaja and a chocolate tasting sensory session.
The PMCA Student Outreach Program was initiated in 2007 to develop an ongoing program that helps to foster participation of talented young leaders in the affairs of the association and the confectionery industry. Committee volunteers continue to develop new ways to attract talent to the industry and help them learn, connect with colleagues and grow their careers. Many students of the program are employed in the confectionery industry, volunteer on PMCA committees and have become mentors themselves for new students wishing to be a part of the industry.
"It was a great two days! I loved the opportunity to share our passion with Anna and Ghadeer. I believe this was a successful activity and I hope that in the future other companies in our industry will follow this format and give this opportunity to different students."
Nico Tomaselli, Lindt & Sprüngli (USA) Inc.
"This experience is invaluable to someone curious about the confectionery industry. Students were able to get unprecedented access to one of the largest confectionery factories in North America. In addition, students were able to ask questions of industry experts in a dozen different roles. I'm so thankful to Lindt to opening their doors to us for a day and a half to help the future of our industry to learn, connect and grow."
Carly Meck, Blommer Chocolate Company – Chair, PMCA Student Outreach Committee
About PMCA
PMCA is an international organization that enhances the companies and careers of confectionery and snack professionals through inspired learning and the building of long-term personal connections, which empowers our members to create products that bring people JOY.
About Lindt & Sprüngli
With more than 170 years of history and Swiss tradition, Lindt & Sprüngli is a global leader in the premium chocolate category, offering high quality products in more than 120 countries. Driven by their passion, dedication and innovative spirit since 1845, the Lindt Master Chocolatiers create the ultimate Lindt chocolate delights. Lindt & Sprüngli operates 12 production facilities in Europe and the United States and employs more than 12,000 worldwide. Lindt USA operates more than 50 retail stores in the U.S. and maintains wide distribution through extensive retail and wholesale channels.