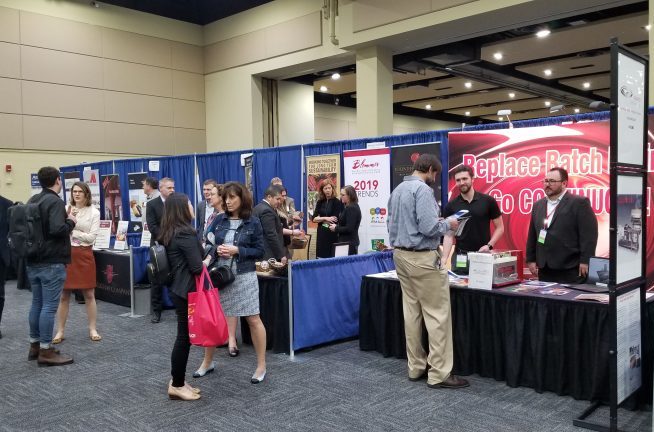 (PMCA — February 7, 2022) — PMCA's 75th Annual Production Conference will be held at the Lancaster Marriott at Penn Square and Lancaster County Convention Center from Monday, April 11 through Wednesday, April 13, 2022 in Lancaster, PA.
The PMCA conference is recognized worldwide as a premier technical conference with highly skilled and experienced experts leading all presentations. The program will include live demos, audience tasting samples, a supplier exhibition and plenty of networking opportunities. In recognition of this milestone year, attendees will enjoy some special celebratory touches, including after-dinner music and dancing.
A digital program booklet detailing the full agenda is available here.
Sunday Evening – April 10, 2022
Western Regional Networking Reception – Brought to you by the PMCA Western Region Committee, which aims to grow awareness of the association in this part of the United States.
Learn | Connect | Grow Networking Reception – All registered attendees are welcome to join this informal reception to catch up with friends and colleagues before the start of the conference.
Monday Morning – April 11, 2022
PMCA Student Outreach Committee Update
Carly Meck, R&D Scientist, Blommer Chocolate Company
The Student Outreach committee chair will provide current highlights of the program and introduce this year's student participants.
Beyond the Basics Seminar: Go with the Flow: Practical Rheology in Confectionery Production
This Beyond the Basics seminar will take attendees on a deeper dive into this rarely discussed but important aspect of confectionery. The half-day seminar will feature presentations from experienced industry professionals accompanied by video, live demonstrations and audience tasting samples.
Session Moderator: Kumar Padmanabhan, Director, Head of Ingredients, Equinom Ltd.
Basic Rheology – A Practical Approach
Neil Cunningham, Founder & CEO & Erin Kuhn, Technical Sales Executive, Centre for Industrial Rheology, UK
The science of confectionery is a sticky business, and if you've been tasked to identify why a product won't hold its shape, pump, gel, wobble, stick, snap, melt or even feel creamy, looking for answers can feel overwhelming. This presentation will outline typical observations of confectionery behavior in terms of their handling, processing and stability that can be described or best understood using rheological characterization methods. Presenters will cover how to quantify creeping flow behavior common in materials like fudge, benchmarking starch and pectin gels and comparing melt behavior. This includes viscosity profiling, oscillatory profiling, yield stress measurements and temperature dependent changes in rheology. We'll break down some key concepts regarding viscous and elastic behavior – how to identify which is which, where and how their numerical values come from and what they mean in practice. G', G" and G* will be explained, with real-world examples of how rheology can quantify differences in physical behavior, followed by how to use that data in a practical application.
Rheology of Ingredients & WIP
Matt Schweizer, Project Manager, Jerome & Horner
Liquid handling, storage, pumping, measuring and dosing are critical for repeatable and predictable production as well as can impact food safety. By comparison, handling, pumping and storing low-viscosity fluids such as water, wine and other beverages is quite easy relative to the high viscosity non-Newtonian fluids we find in the confectionary industry. This presentation will explore the decision tree and method used to guide clients to develop processes that match their needs, scale and budgets. We will also explore dos and don'ts and provide some tricks of the trade.
Rheology of Chocolate
Rebecca Kuehn, R&D Manager, Guittard Chocolate Company
Melted chocolate is often thought of as silky, velvety smooth in its texture and the nature of its flow. The rheological properties are a defining characteristic of chocolate and can make or break the eating experience through mouthfeel and flavor release, and quality perceptions based on appearance. It is the chocolate formulation and processing equipment and conditions that drive the rheology of the finished chocolate. Confectioners, bakers, and food technologists working with chocolate to create unique finished chocolate snacks rely on certain flow properties of chocolate depending on their product and processing equipment. Applying basic chocolate rheology principles to chocolate formulation and manufacture and use, creates a more involved understanding of chocolate rheology, and leads to benefits in the development and manufacture of consistently high-quality chocolate confections and snacks.
Rheology of Sweets
Pam Gesford, Staff Scientist, S&R Research, Sweets & Refreshment Product Development, The Hershey Company
The rheology of sweets not only dictates the texture and eating quality of the final product but also dictates every aspect of processing, handling and beyond. Focusing mainly on hard candy and gummies, major influences on rheology will be discussed from formulation considerations to processing. Demos will include comparison of hard candy of two compositions and aeration of gummies. Factors influencing rheology that are specific to hard candy like flow, relaxation and glass transition point will be discussed and case studies will be presented for stamping/cut-and-wrap as well as for depositing. Similarly, those factors influencing gummy rheology using the most common gelling agents will be discussed and a case study will be presented on the influences of minor additives. Attendees will have the chance to taste samples of side-by-side comparisons of formulation and processing differences.
Q&A Panel
Moderator and Speakers
Speakers will address audience questions about the morning's presentations.
Tuesday Morning Presentations – April 12, 2022
Session Moderator, Tracey Duffey, External Funding – Washington, DC, ofi
Regulatory Update for the Confectionery Industry 2022
Farida Mohamedshah, Senior Vice President of Scientific & Regulatory Affairs, NCA
In the past year, every level of government, federal, state/local and foreign governments, have issued regulations or programs that will affect the confectionery industry. Over the past year, the FDA carried out many activities related to its nutrition and food safety priorities. The agency continues to work on improving the overall safety and traceability of the supply chain and response to foodborne outbreaks through its New Era of Smarter Food Safety Initiative and the implementation of the Food Safety Modernization Act (FSMA). The agency released the final rule for Laboratory Accreditation and Analyses of Foods as required by FSMA and plans to release the Traceability final rule in 2022. Allergen management and controls are a major focus of the agency and an industry priority. With the passage of the FASTER Act, HHS will be working to put together a report to Congress and calls on the agency to provide recommendations on a regulatory process and framework to facilitate the inclusion of additional food allergens as major food allergens. The FDA has increased its work on heavy metals, in particular, heavy metals in foods for babies and young children through the development of its Closer to Zero action plan. Contaminants in food packaging such as PFAS and PFOS have gained national attention at the state and federal level, and the agency continues to sample the food supply for PFAS as part of its Total Diet Study. FDA continues to work on finalizing key elements under its Nutrition Innovation Strategy, one of which is the "Nutrient Content Claims, Definition of Term: Healthy" final rule. The implementation date for compliance with the Gluten-Free Labeling of Fermented and Hydrolyzed Foods passed in August 2021, which has the potential to affect chocolate suppliers and downstream manufacturers. In California, OEHHA finalized its lead in Mexican style candy rulemaking, and released a proposed rulemaking on acrylamide warning language. Cannabis and Cannabidiol (CBD) state and federal legislation and regulatory activities continue to gain traction, with pressure on FDA to regulate their use in foods. At the global level, there has been an uptick in activities related to nutrition labeling including the implementation of Front-of-Pack Nutrition Labeling (FOPNL) schemes in various countries, and adoption of FOPNL principles at the Codex Committee on Food Labeling. Work also continues at the Codex level on issues such as allergen labeling, e-commerce, maximum levels for contaminants in foods, and the General Standards for Food Additives (GFSA). Outcomes from the UN Food Systems Summit held in September 2021 could also have far reaching impacts on future global health and nutrition policy recommendations. This talk will address the latest updates on these topics and more.
Including Upcycled Ingredients to Prevent Food Waste
Turner Wyatt, CEO & Co-Founder, Upcycled Food Association
Including upcycled ingredients in product formulation is one of the easiest ways to improve the sustainability of a given product. But what are upcycled ingredients? How are they used? In this presentation, Turner Wyatt, CEO and co-founder of the Upcycled Food Association will give an overview of the booming upcycled product industry and demonstrate why it is in the best interest of food scientists to become acquainted with upcycling.
Emulsifiers & Their Degree of Fatty Acid Saturation in Confectionery
Orlando Ramírez-Gómez, Technical Manager, Confectionery Applications, Palsgaard Mexico
Saturated, unsaturated or a combination of both? The use of emulsifiers has been extensively recognized and documented for chocolate-based and sugar-based confections. Due to their composition, emulsifiers can provide different functionalities depending on the additional ingredients in the formula, processing conditions and shelf life requirements. Saturation level and fatty acid composition can give different characteristics to finished products. Testing results will be presented so the right saturation level can be determined for different applications.
Cocoa Fruit Equals New Business for Cocoa Communities
Presented by: André van den Beld, Export Trading Group, The Netherlands
Written by: Linda Klunder, Co-Founder, Kumasi BV, The Netherlands
In the cocoa industry, cocoa fruit is often considered a waste material after fermentation. This presentation will explore the processing of cocoa fruit into a marketable cocoa juice product, and how this reduces food waste and poverty in cocoa-growing communities. The Kumasi Connects program in Ghana and The Cocoa Fruit Lab project in Ivory Coast are two examples that will be shared, and we will also hear from COVIMA, a women-led cocoa coop which participates in the project. Finally, the projects' outlooks for 2022 and 2023 will also be shared.
Women in Cocoa – Deeper Dive into VSLAs
Danièle S. Kouassi, GM, Head of Cocoa Sustainability, Côte d'Ivoire, ofi
Join us as we take a deeper dive into Women in Cocoa – the Hidden Jewels of Chocolate. This presentation will highlight the opportunities and challenges facing women in cocoa across different cocoa origins from Papua New Guinea to Ecuador, Nigeria, Côte d'Ivoire and Ghana. We'll delve into the Village Saving & Loan Associations in Côte d'Ivoire and Ghana as we focus on how these alliances are formed by women cocoa farmers to use their increasing learnings and monetary opportunities to affect the lives of their children, families, villages, nutrition and sustainability of cocoa. These jewels of chocolate are slowly but surely leaving their mark not only on their villages, but also on the path towards sustainability in the cocoa sector.
Tuesday Afternoon Breakout Sessions – April 12, 2022
Regulatory Roundtable 2022
Farida Mohamedshah, Senior Vice President of Scientific & Regulatory Affairs, NCA
If you found this year's Regulatory Update interesting, please join this discussion and Q&A session. Topics will include food labeling, bio-engineered standards (GMO labeling), cannabis and CBD, Prop 65 and allergen issues as well as key international regulations. Come with your questions (and answers) on these or other topics.
Cannabis – US Regulatory Update
Judith Cassel, Attorney, Cannabis Law PA
This session will begin with an overview of the current federal status of cannabis, moving into a group discussion on current enforcement activity, future regulatory status and how we can be prepared for future changes in status. We will also discuss risk mitigation strategies and lessons learned from similar industries. Attendees are encouraged to come ready with questions to discuss with the group. This session will include discussion of 1) litigation between traditional candy products and the attempt, by some in the cannabis industry, to mimic these products, 2) testing of ingredients in order to ensure quality, potency, and safety and 3) how employers can handle medical marijuana in the workplace.
The Unstoppable Proteins Movement
Julie Mann, Chief Innovation Officer, Puris Holdings
The desire for protein-enriched foods has grown 51 percent over the past 11 years, and application breadth continues to expand into confections, snacks and snack bars. The focus for Consumer Packaged Goods (CPG) companies' shifts towards: (1) understanding the various protein source options, advantages/disadvantages, (2) understanding the consumer drivers and desires for protein and (3) overcoming protein formulation hurdles in specific applications.
Whether dairy-derived or plant-based, protein is an ingredient whose reign shows no signs of slowing down. In food and beverages, protein replacement and fortification are the overarching trends linking two very different segments – dairy- and plant-based. Consumer demand for protein-enriched products now extends beyond sports nutrition to include senior nutrition, weight management, overall health and wellness and permissive indulgences.
This innovative and informative session will provide discussion and samples to define the challenges to overcome, including choosing the right protein, understanding functional properties, optimizing organoleptic properties (flavor and texture) and delivering nutritional contribution. In addition, this session will highlight the increasing interest by consumers to contribute positively to planetary wellness and sustainability. Lastly, consumers want to be provided with enjoyable, convenient and healthy snack options for their busy lives.
Protein enables a wide range of uses and benefits and provides ample space for innovation and new product development across food and beverage segments.
Strategies for Successful Scale-Ups
Gwen Evenstad, Owner, G-Force Food Consulting
Finally getting to that scale-up phase in the development of a confectionery product is both exciting and terrifying. You never really know what will happen, no matter how many years of experience you have. Usually, incidents occur that are out of your control – however, many can be predicted and mediated. Fortunately, careful planning can be utilized to help increase the chance for success. For each process stage, benchtop development, pilot batch production and mass manufacturing scale-up, risk assessments with solutions should be added into the process. The same risk assessments can be applied to situations in very small start-up operations up to mass manufacturing processes that can challenge us with closed systems, fully automated processes and complicated displays. We will explore elements of both scale-up environments.
Together, we'll discuss processing, ingredient, formula and equipment-driven differences that can produce unanticipated changes in product characteristics. We'll look at examples of defects that can result from these variables for many different confectionery systems. We'll discuss how to manage the scale-up process with minimum impact on manufacturing and producing sellable product. We'll share stories, discuss mediation strategies and talk about administrative steps that can maximize success.
Chocolate Tempering – Methods & Principles
Ann Brinkerhoff, Principal Scientist – Chocolate Front-End Innovation, The Hershey Company
Some consider chocolate tempering an art while others consider it a science. Throughout the history of chocolate, tempering methods have evolved, and the tempering methods used today are often determined based on the final application. One may choose to table or hand temper chocolate, use a small batch size tempering unit or a large-scale continuous tempering unit based on the size of their operation. Regardless of the method, the principles of tempering chocolate remain the same. In this breakout session, we will demonstrate three methods of tempering chocolate, discuss the principles of tempering and evaluate chocolate temper.
Confectionery & Snack Trends
Ana-Maria Muncaciu Bodea, Sr. Marketing Manager, Firmenich
Today's multicultural and diverse consumers are expecting and demanding more from their favorite brands. Taste, price and convenience are no longer the sole purchase decision factors. Consumers place increasing value on products that will deliver purposeful results. Brands that show how results are possible through intuitive, uncomplicated changes will connect with consumers. Join us as we explore mega trends and key consumer insights that are impacting new product innovation.
Women in Science, Technology, Engineering & Mathematics (STEM) Panel
Moderator: Tessa Porter, President & Founder, Sprinkk
Panelists:
Shawn Houser-Fedor, Senior Director of Chocolate & Packaging R&D, The Hershey Company
Marlene Stauffer, Director of Regulatory Compliance, Blommer Chocolate Company
Dr. Maya Warren, Ice Cream Scientist, SMiZE Cream
Historically, women are under-represented in STEM careers and often face unique challenges in navigating the corporate ladder. This inclusive session seeks to define and challenge barriers that may contribute to this under-representation, as well as to highlight the personal stories of successful women in our industry. In this open forum, panelists will discuss a number of topics including career milestones, overcoming obstacles such as "Imposter Syndrome", as well as strategies on how to advocate for ourselves and other women. Please note, people of all genders are welcome and encouraged to attend this session.
Tuesday Evening – April 12, 2022
Cocktail Reception
Dinner & Awards Program
75th Anniversary Celebration – music, dancing and more!
Wednesday Morning – April 13, 2022
Thriving in Today's World: Cross-Functional Panel & Roundtables
Panelists will share their perspectives and learnings of various confectionery businesses which steadfastly and successfully navigated their businesses during recent challenges of global COVID, natural disasters and other challenges. They will discuss dealing with COVID restrictions from the manufacturing perspective, ways R&D efforts were curtailed or perhaps expanded, speak to the woes and new procedures transport/logistics companies were experiencing and compare a family-owned company's experience of Hurricane Sandy with enduring this current pandemic.
Moderator Intro & Overview
Mark Kline, Director, Sr. Manager Nut & Energy Sourcing, The Hershey Company
The opening remarks will provide an overview of the topic and highlights of the program to follow.
Panelists:
Manufacturing
Andrew Hartman, Director of Engineering & Maintenance, Wolfgang Confectioners
Holistic Small Business
Jorge Farber, President, The Madelaine Chocolate Company
Supply Chain Logistics
Thomas Readinger, Business Development Executive, Dedicated Contract Services, J.B. Hunt Transport Services, Inc.
R&D
Monica Caparosa, Senior Product Development Scientist, Ferrero
Supplier Exhibition
The 2022 production conference will once again feature a supplier exhibition Monday afternoon from 12:30-5:00 p.m. in Freedom Hall of the Lancaster County Convention Center. Free exhibit hall passes will be given to anyone wishing to only walk the exhibit floor (must be 18 or older). See registrants to date below:
Supplier Exhibition Registrations as of February 7, 2022 (25+ Year Exhibitors Recognized in Bold)
AAK USA
Aasted-North America LLC
ADM/Matsutani LLC
Almond Board of California
Bainbridge Associates LLC
Baker Perkins, a Schenk Process Group Company
Barry Callebaut
Bartek Ingredients
Bell Flavors & Fragrances
BENEO, Inc.
Blommer Chocolate Co.
Bunge Loders Croklaan
Burns & McDonnell
Callisons
Candy Worx
Capol LLC
Cargill Cocoa & Chocolate
Cargill Inc.
Centerchem, Inc.
Ciranda, Inc.
Colorcon
Comax Flavors
Concord Foods
Coperion K-Tron
Crosio & Associates, Inc.
D Madison Solutions
Domino Foods Inc.
Driam USA Inc.
Egan Food Technologies
Epogee LLC
ERIEZ
Eurofins Microbiology Labs
Fismer Lecithin GmbH
Flavorchem
Fuji Vegetable Oil Inc.
Galloway Company
GNT USA, Inc.
Gold Coast Ingredients
Golden Peanut & Tree Nuts
Goodhart Sons, Inc.
Goodway Technologies
Grain Processing Corporation (GPC)
Graybill Machines, Inc.
Guittard Chocolate Company
HDM USA
Hilliard's Chocolate System
IFC Solutions
Industrial Food Ingredients
International Flavors & Fragrances (IFF)
IPCO US LLC
Kargher
Kocotek
MANE, Inc.
Manna Foods
Mantrose-Haeuser Co, Inc.
MC/Manufacturing Confectioner
Molded Fiberglass Tray Co.
Mother Murphy's Flavors
NETZSCH Premier Technologies
Nutrin
Palmer Holland
Parker Ingredients
Precision Roll Grinders, Inc.
Prova
Pyure Brands LLC
Readco Kurimoto
Roquette
Savage Bros. Co.
Scala-Wisell International, Inc.
Shick Esteve
Skjodt-Barrett Foods Inc.
Sollich North America, LLC
Tate & Lyle
TCF Sales
Temuss Products Limited
Tomric Systems, Inc.
Transcontinental Multifilm Inc.
TRICOR Systems Inc.
Varick Enterprises, Inc.
VernDale Products, Inc.
Viking Pump, Inc.
Woody Associates, Inc.
WRH Industries, Ltd.
The list of registered exhibitors will be updated on our website periodically leading up to the event. View the exhibit floor plan and most recent list here.
About the Production Conference
The PMCA Annual Production Conference consistently draws a large, international audience and is geared toward individuals responsible for production, operations management, research and development and quality control. Registration is open to anyone in the industry. The digital conference booklet, attendee registration forms and hotel accommodations are available at pmca.com/production-conference. For more information, please contact the PMCA office at info@pmca.com or 610-625-4655.
About PMCA
PMCA is an international association that enhances the companies and careers of confectionery and snack professionals through inspired learning and the building of long-term personal connections, which empowers our members to create products that bring people joy.
Our goals are to provide open forums for the free exchange of technical information through its annual production conference, to promote and direct basic and applied scientific research in the science of chocolate and confectionery through its Research Program at leading universities and to educate and train technical and manufacturing personnel worldwide through its Short Course Program. The organization was originally founded in 1907 as the Pennsylvania Manufacturing Confectioners' Association.