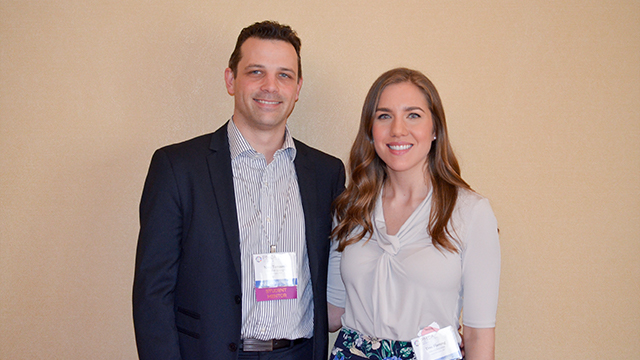 (PMCA — April 20, 2017 – Bethlehem, PA) — During the PMCA Annual Meeting of Members held Tuesday, April 4, 2017 at the Lancaster County Convention Center, Erin Fleming, Mars Choclate NA and Nico Tomaselli, Lindt & Sprüngli were ratified as the newest members of PMCA's Board of Directors beginning July 1, 2017.
Erin Fleming attended The Pennsylvania State University where she earned both her bachelor's and master's degrees in food science. As a former PMCA fellow, Erin was advised by Dr. John Hayes and studied oral astringency within the context of confections. She is currently a sensory scientist at Mars Chocolate North America.
Nico Tomaselli is the R&D manager at Lindt & Sprüngli (USA) located in Stratham, New Hampshire. Nico began his career in Milan, Italy, where at the age of 13 he first developed an interest in the culinary arts and chocolate in a little pasty store. After starting a traditional culinary arts and pastry program he soon realized chocolate was his true passion. After completing his culinary degree, Nico entered the University of Milan where he earned a master's degree in food science in 2003 and then a Lindt Academy Master in Business from University of Castellanza LIUC in 2011.
After his graduation, Nico worked in technical support for a German beer company for four years before joining Lindt & Sprüngli, Italy. He started in Induno Olona, Italy as the innovation and technology project manager and then became the R&D manager. In 2012, Nico accepted the position as R&D manager for Lindt & Sprüngli (USA) and moved to Stratham, NH. There, he was charged with creating a new R&D business unit for the North American branch of Lindt.
In addition to his role as a R&D manager, Nico collaborates with the Lindt international technology team and international technology vendors to help shape the future of premium chocolate ("because life is too short for ordinary chocolate!"). Nico also collaborated with national and international candy associations and is a member of two PMCA committees (Education and Learning and Student Outreach).
Originally from Milan, Italy, Nico currently resides in New Hampshire with his wife and two wonderful kids.
PMCA
Enhancing the companies and careers of confectionery and snack professionals through inspired learning and the building of long-term personal connections, which empowers our members to create products that bring people joy!