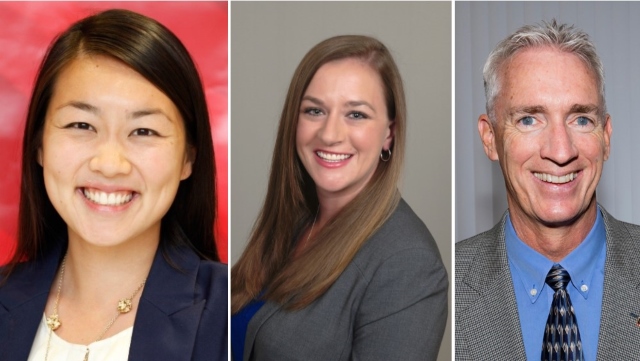 (PMCA — June 18, 2018 — Bethlehem, PA) — During the PMCA Annual Meeting of Members held Tuesday, April 17, 2018 at the Lancaster County Convention Center, Serena Bitzer, The Hershey Company and Carly Meck, Blommer Chocolate Company were ratified as the newest members of the PMCA Board of Directors beginning July 1, 2018.
Tom Houlihan, Guittard Chocolate Company was elected to serve as the association's new vice president. Outgoing vice president, Rose Potts, Blommer Chocolate Company, will transition to the role of president. Outgoing president Edmund Wilson, Industry Consultant will move into the role of chair of the board. Mr. Wilson replaces outgoing Chair of the Board Bob Huzinec, The Hershey Company. Edward Minson, Tate & Lyle will remain as treasurer of the association.
New Director Serena Bitzer is a senior food technologist at The Hershey Company where she works in continuous improvement. Her involvement with PMCA started soon after joining Hershey. Serena currently serves on the PMCA Student Outreach and Production Conference Program committees. Over the past few years, she has been the sub-committee chair for the Hosted Display and Basics & Beyond portions of the conference. In addition to her involvement with PMCA, Serena is the current president of the Institute of Food Technologists Keystone Section, and volunteers on leadership teams within Hershey and other local organizations. Serena is honored to have been nominated to join the PMCA Board of Directors and looks forward to serving, educating and growing the industry together.
New Director Carly Meck graduated from Delaware Valley University in 2011 with a bachelor's degree in food science and a minor in food management. She also earned an MBA in food and agribusiness at DVU in 2015. She began working at Blommer Chocolate Company in East Greenville, PA in 2010 as a summer intern in R&D. She was hired as an R&D technologist in 2011, where her role eventually grew into an R&D scientist. In this role, she develops new chocolate and cocoa formulas, creates process improvements, provides internal and external education training and executes various technical studies.
Carly has been volunteering with PMCA since 2012, when she began as a student mentor after attending the conference under the SOP.
Since starting with PMCA, she has served on several committees including Student Outreach Program, Social Media Sub-Committee, and Production Conference – Connect the Future. In addition, she participated as an assistant presenter at the Wednesday Hands-On Chocolate Workshop at the 2016 conference. In 2017, she began the role of Committee Chair of the Student Outreach Program. Carly lives with her husband, a fellow Blommer employee, in Mertztown PA.
Incoming vice president Tom Houlihan serves as director of industrial sales at Guittard Chocolate Company, with a wide range of responsibilities primarily focusing on managing the sales team. For the past 30 years, he has worked for two chocolate manufacturing companies, celebrating 25 years at Guittard Chocolate Company in 2015. He has been involved with the Philadelphia Candy Show as secretary and then as co-chair of the show, back in the 90s. He served on the PMCA Board of Directors for six years and is a current member of the Long Range Planning and Membership & Marketing committees. Tom is a director on the board of the National Association of Flour Distributors (NAFD), serving the bakery distributors segment of our industry.
On a personal level, Tom and his wife Mary Beth have been married for 33 wonderful years with four children and two beautiful granddaughters. They lived in Maryland for 30 years, then moved to Davenport, Florida. Tom enjoys outdoor activities such as backpacking, biking and fishing. For 20 years, he was an assistant scoutmaster in Boy Scouts, also serving as an Eagle Scout advisor. Prior to leaving Maryland, Mary Beth and Tom were marriage prep sponsors in their church, helping newly engaged couples through a marriage enlightenment program.
About PMCA
PMCA is an international organization that enhances the companies and careers of confectionery and snack professionals through inspired learning and the building of long-term personal connections, which empowers our members to create products that bring people joy.