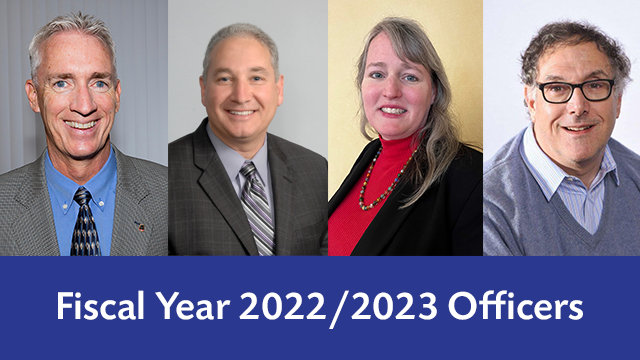 (PMCA — June 7, 2022) — During PMCA's Annual Meeting of Members, held Tuesday, April 12, 2022 at the 75th Annual Production Conference in Lancaster, PA members ratified the slate of officers and directors for the new fiscal year beginning July 1, 2022.
Cynthia Angelo, Givaudan Flavors was elected vice president. Tom Houlihan, Guittard Chocolate Company transitioned to chair of the board and Steve Genzoli, Ghirardelli Chocolate Company transitioned to president. Ed Minson, Tate & Lyle remains as treasurer.
Incoming Vice President Cynthia Angelo is a senior food scientist at Givaudan Flavors and is responsible for confectionery project management and application. She was introduced to the flavor industry while working as a product development scientist in R&D for a major confectionery company and identified improvements and additions for two major sugar brands. Through her 25 years of working with confectionery customers, sales and scientific disciplines within Givaudan, she is known for creative problem solving, critical thinking, detail orientation and organizational skills.
Cynthia has dual technical degrees from Penn State, a BS in food science and a BS in nutrition science. She also earned a Marketing Strategy Certificate from Cornell University in 2015.
Two directors were ratified as the newest members of the PMCA Board of Directors: Rebecca Kuehn, Guittard Chocolate Company and Abdoulaye Traore, Cargill Cocoa & Chocolate. Their first terms will begin July 1, 2022, at the start of the PMCA fiscal year 2022/2023.
Directors renewing second terms are Reg Ohlson, retired, Mars, Eric Schmoyer, Barry Callebaut, Ashley Searing, The Hershey Company and Joe Sofia, Cargill Cocoa & Chocolate.
After several years of dedicated service to PMCA, Rose Potts, Blommer Chocolate Company completed her tenure as officer. Ms. Potts will remain a voting member of the board for six years, after which time she will become a lifetime, honorary member of the board.
About PMCA
PMCA is an international organization that enhances the companies and careers of confectionery and snack professionals through inspired learning and the building of long-term personal connections, which empowers our members to create products that bring people joy.