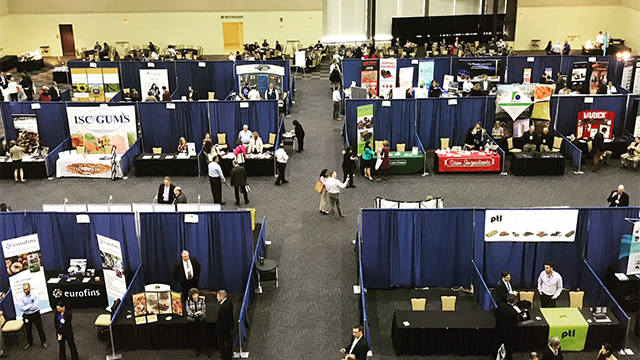 (PMCA — February 3, 2019) — PMCA's 73rd Annual Production Conference will be held at the Lancaster Marriott at Penn Square and Lancaster County Convention Center from Monday, April 8 through Wednesday, April 10, 2019 in Lancaster, PA.
The PMCA conference is recognized worldwide as a premier technical conference with highly-skilled and experienced experts leading all presentations. The program will include live demonstrations, audience tasting samples, a supplier exhibition and plenty of networking opportunities.
Monday Morning – April 8, 2019
PMCA Student Outreach Committee Update
Carly Meck, R&D Scientist, Blommer Chocolate Company
The Student Outreach committee chair will provide current highlights of the program and introduce this year's student participants.
Beyond the Basics Seminar
Session Moderator, Tessa Porter, Director of R&D, Ferrara Candy Company
Sugar Crystallization – to Be or Not to Be?
The Program Committee introduces for this year a Beyond the Basics seminar to take attendees on a deeper dive into this important aspect of confectionery. This half-day seminar will feature presentations from experienced industry professionals accompanied by video, live demonstrations and audience tasting samples.
Understanding and Controlling Sugar Crystallization
Michelle Schwenk, Group Director of Carbohydrate & Wellness, Archer Daniels Midland (ADM)
Sucrose is an amazing molecule whose characteristics create and govern our confection industry. One of the unique qualities is its crystallization. Sometimes we want crystallization, sometimes it creates headaches. Understanding the chemistry of crystallization and the unique properties of sucrose crystals will help harness its power for your unique confection.
To Grain or Not to Grain: The Phenomena of Sugar Crystallization
Elizabeth Hagerman, Food Technologist, Warrell Creations
No matter what the product, everyone eats with their eyes. The color, the smell and the texture all contribute to a preconceived notion prior to even tasting a confection. Certain confections have already established that preconceived notion to the point where even the slightest nuance will lead to an off-note. This is apparent when it comes to texture, and especially texture in confections. When the smooth, stretchy, rich caramel suddenly becomes short and granular, the texture shows the phenomenon of sugar crystallization and how it can be controlled. Demonstrations and caramel samples will help illustrate sugar crystallization at its finest.
Sucrose Crystallization in the Factory and Beyond
Justin May, Manager of Process Optimization, The Hershey Company
The recipes, methods and procedures used to make confectionery products are often well-known and carefully passed down. The reasons behind these methods and procedures are often not. The control of sucrose crystallization is one of the most important parts of confectionery manufacturing. This presentation will review the critical aspects of processing for controlling crystallization. The presentation will review how the type of process used and how we interact with the process can be the determining factors between success and failure in the factory. Some post-production considerations will be discussed as well.
Tuesday – April 9, 2019
Morning Session
Session Moderator, Steve Genzoli, VP Quality Assurance/Research & Development, Ghirardelli Chocolate Company
PMCA Membership and Marketing Committee Update
Mark Freeman, Vice President of Sales, Shank's Extracts
PMCA's Membership and Marketing Committee chair will provide an overview of committee activities, including special projects aimed at promoting awareness and enhancing membership value.
Taking Control of Cocoa Quality
Dr. Darin Sukha, Research Fellow, Cocoa Research Centre, The University of the West Indies, St. Augustine, Trinidad & Tobago
The global market for cocoa has become more sophisticated and segmented. Growing consumer awareness places even more demands at origin to deliver cocoa beans that meet higher quality standards. A situational analysis will be presented followed by a holistic industry definition of cocoa quality. The responses from across the cocoa production belt in taking control of cocoa quality through the establishment of cocoa innovation centers and cocoa quality laboratories will follow. Their roles and functions across the cocoa value chain are discussed in the context of treating cocoa more as a food item, optimizing cocoa quality and in training and empowering stakeholders to harness the genetic flavor potential of their cacao varieties towards optimal quality, niche marketing and a more sustainable cocoa economy.
Sustainable Mint
Greg Biza, Senior VP Research & Development, Callisons
Mint has been cultivated and produced commercially in the United States since the 1700s. This discussion outlines the current state of mint production in North America, including the steps and safeguards to ensure a safe, sustainable supply of mint and the factors affecting them. Additionally, there will be discussion about how a vertically integrated research organization contributes to the sustainability of North American mint.
Advancements in Gummi Confections
Robert Boutin, President, Knechtel Labs/Bentley Specialists
At more than $1.2 billion in annual sales, gummi confections and all its related products demand our attention. But, like all confections, they possess a variety of positive and negative attributes. Many of the factors affecting gummies are also affecting other products in similar but possibly different ways. Manufacturing technologies, costs and product stability continue to affect this category's sales, profits and growth. This presentation will review and focus on some of the factors affecting gummi manufacture from the perspective of equipment, quality, consumer acceptance of change and more. We will focus on advancements in technology and opportunities wherever possible.
Afternoon Session
Session Moderator, Marlene Stauffer, Regulatory Compliance, Regional QA, Blommer Chocolate Company
Changing a Culture: Risk Assessments and Prevention through Design
Stanley Jules, Director—Health, Safety Environmental, Spangler Candy Company
How do we change a safety culture? This is the question many safety professionals and various companies ask each year. This presentation will review the 7 Steps of Safety but, most importantly, focus on the importance of establishing a risk assessment and Prevention through Design methodology in a facility. We will focus on understanding the basic steps in developing a safety culture, the history of Prevention through Design and its impact. We will also talk about the different levels of risk and how we can mitigate the risk in the future.
Predictive and Productive Maintenance
Lawrence S. Bouvier, Vice President, Fuss & O'Neill
Total Productive Maintenance (TPM) improves equipment performance. This overview will detail the steps that manufacturers can implement to develop a successful TPM process. Typical manufacturing companies provide equipment care (maintenance, repairs and inspections) through their maintenance departments, but can miss the valuable perspectives and insights that their production employees can bring to the table. TPM takes time to develop as a culture but can quickly deliver results by emphasizing how important equipment care is and explaining how all employees can support this initiative. The presentation examines a four-phase approach, employing simple tools that can deliver those results and build a culture of equipment care that will benefit all.
PMCA Research Committee Update
Eric Schmoyer, R&D Project Manager, Barry Callebaut
PMCA's Research Committee chair will provide a review of current and recently completed grant-in-aid projects and will report on the committee's plans to enhance the value of this program for the future.
Practical Production in the Food and Beverage Industry
Perry Bevivino, Sales Account Manager, Rockwell Automation
Plant operations have always been looking for ways to drive performance, and now with the advent of advanced technologies, manufacturers have the tools necessary to optimize their plants like never before. This presentation will review current trends and challenges in manufacturing, and demystify terms like "Smart Manufacturing," "The Internet of Things," and "Industry 4.0." To illustrate some of the capabilities of modern technologies, case studies will be shared, where solutions generate cost savings while delivering real improvements in quality and overall customer satisfaction. The speaker will also present trends in technology designed to help with workforce challenges.
Passionate About Pigging
Tod Galloway, Vice President of Engineering, Galloway Company
Pigging is a process whereby a projectile, propelled by a liquid or gas, is used to evacuate liquid from a pipe. When processing liquids, each time product is pumped from one place to another, upon completion there will be some material left in the pipe. The value of this product can be considerable. This presentation will explore the advantages and disadvantages of different purging options, requirements and limitations as well as operational considerations.
Tuesday Evening – April 9, 2019
Cocktail Reception
Attendees will enjoy a pre-dinner cocktail reception to connect with friends, colleagues and new faces.
Dinner Speaker
Looking Back in From the Outside: Perspectives on the Confectionery Industry
Bernard Pacyniak, retired, Candy Industry Magazine
Ten months after his retirement, Candy Industry's former editor in chief Bernard Pacyniak provides his particular point of view on the confectionery industry. Unfettered from weekly and monthly deadlines, Pacyniak takes time to look at a range of issues, trends and anomalies as only a seasoned and independent observer can. In doing so, he combines wit, whimsy and even a bit of weirdness on what possibly lies ahead for the industry. Warning: This presentation may cause you to smile, chuckle or shake your head in amazement.
2018 Marie Kelso Memorial Award
Presented to Carly Meck, Blommer Chocolate Company
Wednesday Morning – April 10, 2019
Session Moderator: Shawn Houser-Fedor, Sr. Director Chocolate and Packaging R&D, The Hershey Company
PMCA Education and Learning Committee Update
Peter Jamieson, Senior Scientist, SPI Pharma
PMCA's Education and Learning Committee Chair will provide a report on the association's short course program including highlights of recent courses and a look at future offerings.
Regulatory Update 2019
Debra Miller, Senior Vice President of Scientific & Regulatory Affairs, National Confectioners Association
In the past year, the U.S. federal as well as many state and local governments and Canada have issued regulations or programs that will affect the confectionery industry. In October, the New York Department of Health announced a program to encourage sugar reduction in packaged foods. The state of California is reviewing food dyes and Canada is finalizing labeling and nutrition guidance revisions. Meanwhile, FDA has outlined its innovation plan which includes modernizing claims, ingredient labels and standards of identity and will also continue implementation of the revised nutrition facts label and menu/vending labeling. On the food safety side, FDA has issued proposed and final guidance documents on the Food Modernization and Safety Act and plans to improve the timelines and communication of food recalls. In late December, USDA issued its final rule on the disclosure of bio-engineered ingredients. This talk will address the latest updates on these topics and more.
Cocoa Sustainability: Working Together on Deforestation and Climate Change
Ethan Budiansky, Director of Environment, World Cocoa Foundation
A well-loved commodity with significant economic importance for both producing and consuming countries, cocoa is grown across the tropical belt by millions of smallholder farmers, mostly in West Africa, who depend on the cash crop. Today, their livelihoods are threatened by the effects of climate change and deforestation. How can the global cocoa and chocolate supply chain, which is at the same time highly concentrated and complex, with numerous production steps and stakeholders involved, work hand-in-hand with producing countries and farmers to solve these issues? This presentation will describe the most compelling environmental risks for the sector – climate change and deforestation – and why true sustainability can only be achieved through collective action. It will also cover current joint initiatives and the collective commitments that are shaping the global cocoa and chocolate supply chain.
Rising to the Occasion: Specialty Chocolates in Bakery
Marie Loewen, Senior Applications Scientist, Blommer Chocolate Company
The past few years have seen increasing crossover between confections, snacks and bakery. The prevalence of snacking at all times of day and the demand for new, innovative products to try has blurred the lines between candy and other categories. This trend demands an expanded tool set of product developers, as the chocolate needed for bakery has its own set of requirements that differ somewhat from typical confectionery specifications. This presentation will address how and when chocolate is incorporated into bakery items, discuss noteworthy ingredient interactions and identify the specifications of concern for various bakery applications.
Other Program Highlights
Featured Research during Tuesday Afternoon Break: The Effect of Processing on the Localization of Fat Crystals within Palm-Based Confectionery Models
Ryan West, Ryerson University – PMCA Research Grant-in-Aid recipient
Confectionery fillings and coatings are complex materials consisting of multiple interacting ingredients. While it is generally accepted that sugar localizes fat crystals on its surface, there is evidence to suggest that processing could challenge this notion. The relationship between processing condition and fat crystallization was explored using scanning electron microscopy in order to understand where fat crystallization takes place within a sugar dispersion and how this may impact its physical properties. It was found that kinetic processing (e.g., high cooling rate, temperature) coaxed fat crystallization without the aid of sugar, resulting in crystals to reside freely between sugar particles within the matrix and giving the dispersion a solid-like behavior. In contrast, extended processing (e.g., low cooling rate, temperature) enabled crystallization to take place on the surface of sugar particles, resulting in a matrix absent of fat crystals and a dispersion with more liquid-like behavior. The use of scanning electron microscopy has provided a means of exploring fat crystal localization in sugar dispersions and how processing conditions can significantly alter their physical properties, which may provide new insight into controlling production efficiency within industry.
PMCA Student Outreach Program
PMCA's Student Outreach Committee, led by Chair Carly Meck, Blommer Chocolate Company, will once again host students from educational institutions with food science, business, engineering and related programs. Students will have the opportunity to interact with industry personnel and enjoy several activities developed specifically for them including a special chocolate tasting session sponsored and organized by Barry Callebaut. Students will be introduced by Mrs. Meck prior to the start of the Beyond the Basics program Monday, April 8.
Supplier Exhibition
The 2019 production conference will once again feature a supplier exhibition Monday afternoon from 12:30-5:00 p.m. in Freedom Hall of the Lancaster County Convention Center. This year, free exhibit hall passes will be given to anyone wishing to walk the exhibit floor (must be 18 or older). See registrants to date below:
Supplier Exhibition Registrations as of January 15, 2019
AAK
Aasted-North America LLC
ADM/Matsutani LLC
Almond Board of California
American Chocolate Mould Company
ASR – Domino Foods Inc.
Avatar Corporation
Barry Callebaut
Bell Flavors and Fragrances
Berndorf Belt Technology USA
Blommer Chocolate Co.
Bühler Inc.
Bunge Loders Croklaan
Candy Worx
Capol LLC
Cargill Cocoa & Chocolate
Centerchem, Inc.
Ciranda
Clasen Quality Chocolate
Colorcon
Concord Foods, Inc.
Coperion K-Tron
Crosio & Associates, Inc.
Dairy Farmers of America
Divis Nutraceuticals
Driam USA Inc.
DuPont Nutrition and Health
Egan Food Technologies
ERIEZ
Eurofins Microbiology Laboratories
Flavorchem
Fuji Vegetable Oil Inc.
Galloway Company
Gamay Food Ingredients
GEA North America
GNT USA
Gold Coast Ingredients
Golden Peanut & Tree Nuts
Goodhart Sons, Inc.
Grain Processing Corporation (GPC)
Graybill Machines, Inc.
Guittard Chocolate Company
Hamburg Dresdner Machinenfabriken USA
Herding Filtration LLC
Hilliard's Chocolate System
IFC Solutions
Industrial Food Ingredients
IPCO US LLC
Kargher
KMC
Knechtel Inc.
Kocotek
Landers Group LLC
MANE, Inc.
Mantrose-Haeuser Co, Inc.
MC/Manufacturing Confectioner
MILTSAM (Miltenberg & Sampton, Inc.)
Molded Fiberglass Tray Co.
Mother Murphy's Flavors
NETZSCH Premier Technologies
Nexira
Nutec Group
Nutrigaard LLC
Nutrin Distribution
Palmer Holland, Inc.
Palsgaard Inc.
Precision Roll Grinders, Inc.
PTL
Readco Kurimoto, LLC
The Retail Confectioners Assoc. of Philadelphia
Roquette America
Rousselot Inc.
Savage Bros. Co.
Scala-Wisell International, Inc.
Schenk Process
Shank's Extracts
Silesia Flavors
Skjodt-Barrett Foods Inc.
Sollich North America LLC
Solvay
Stern Ingredients Inc.
Tate & Lyle
Temuss Products Limited
Tomric Systems
Totus Trade LLC
Transcontinental Multifilm Inc.
TRICOR Systems Inc.
Turbo Systems
Union Confectionery Machinery Company
Union Process
Varick Enterprises, Inc.
VernDale Products, Inc.
Weaver Nut Company
Woody Associates Inc.
WRH Industries, Ltd.
25+ Year Exhibitor Recognition (registered as of January 15, 2019)
AAK
American Chocolate Mould Co.
Barry Callebaut
Bell Flavors & Fragrances, Inc.
Blommer Chocolate Company
Bühler, Inc.
Centerchem Inc.
Colorcon
DuPont Nutrition & Health
Fuji Vegetable Oil Inc.
Grain Processing Corporation (GPC)
Hilliard's Chocolate System
IFC Solutions
Kargher
Kocotek
MC/Manufacturing Confectioner
Molded Fiber Glass Tray Co.
Readco Kurimoto, LLC
Roquette America
Savage Bros. Co.
Sollich North America LLC
Stern Ingredients, Inc.
Tate & Lyle
Tricor Systems
Turbo Systems, Inc.
Union Confectionery Machinery Company
Varick Enterprises
Woody Associates Inc.
WRH Industries Ltd.
About the Production Conference
The PMCA Annual Production Conference consistently draws a large, international audience and is geared toward individuals responsible for production, operations management, research and development and quality control. Registration is open to anyone in the industry. The printed conference booklet, attendee registration forms and lodging information are available from the PMCA office or at pmca.com. For more information, please contact the PMCA office at 610-625-4655.
About PMCA
PMCA is an international association that enhances the companies and careers of confectionery and snack professionals through inspired learning and the building of long-term personal connections, which empowers our members to create products that bring people joy.
Our goals are to provide open forums for the free exchange of technical information through its annual production conference, to promote and direct basic and applied scientific research in the science of chocolate and confectionery through its Research Program at leading universities and to educate and train technical and manufacturing personnel worldwide through its Short Course Program. The organization was originally founded in 1907 as the Pennsylvania Manufacturing Confectioners' Association.