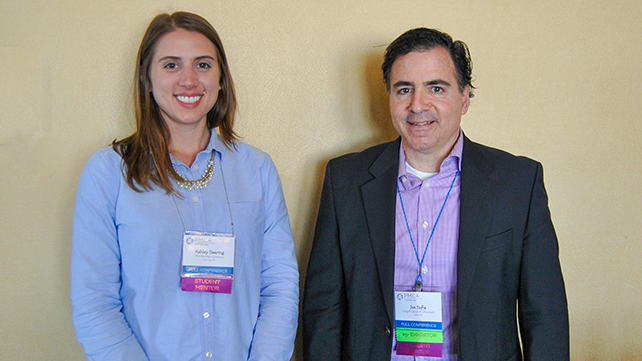 Ashley Searing and Joe Sofia.
(PMCA — July 10, 2019) — During the PMCA Annual Meeting of Members held Tuesday, April 9, 2019 at the Lancaster County Convention Center, Ashley Searing, The Hershey Company and Joe Sofia, Cargill Cocoa & Chocolate were ratified as the newest members of PMCA's Board of Directors beginning July 1, 2019.
Ashley Searing is a food technologist at The Hershey Company in the Product Process Optimization department. She has been with Hershey for three years, where she began her career in 2016 after graduating from Virginia Tech with a degree in food science and technology and a minor in business. At Hershey, Ashley supports the product optimization co-op program and is on the Women's Business Resource Group Committee. She continues to strive to connect the technical and business sides of the company.
Ashley has been a member of PMCA for five years. She participated in the Student Outreach Program for two years while attending Virginia Tech and has been a Student Outreach Committee member and mentor for two years. She is an active member of the Keystone Chapter of the Institute of Food Technologists (IFT) and the Greater Philadelphia Chapter of Network of Executive Women (NEW).
In her free time, Ashley enjoys going to Virginia Tech sporting events, traveling, volleyball and crafting. She also is a board member of the Joy of Sports Foundation, a non-profit organization to expand and enhance athletic opportunities for local youth.
Joe Sofia graduated from Cornell University with a degree in chemical engineering and spent 10 years working for Nestlé USA in engineering, R&D and manufacturing before joining their Peter's Chocolate division as a sales manager in 1995. Joe worked at Nestle 18 years until the Peter's brand was acquired by Cargill in 2002. He is currently Cargill's chocolate specialist in Lititz, PA, working on his thirty-fourth year in the confectionery industry. Joe serves on the PMCA Education Committee and is an instructor for the PMCA Chocolate and Centers Short Courses. He was an instructor for Cargill's Chocolatier's Workshop, has hosted seminars and demonstrations at the Philadelphia Candy Show and Sweets and Snacks Expo and serves on the instruction team for the RCI Chocolate Boot Camp. Among other hobbies, Joe enjoys making chocolates in his spare time in his home candy kitchen.
About PMCA
PMCA is an international organization that enhances the companies and careers of confectionery and snack professionals through inspired learning and the building of long-term personal connections, which empowers our members to create products that bring people joy.