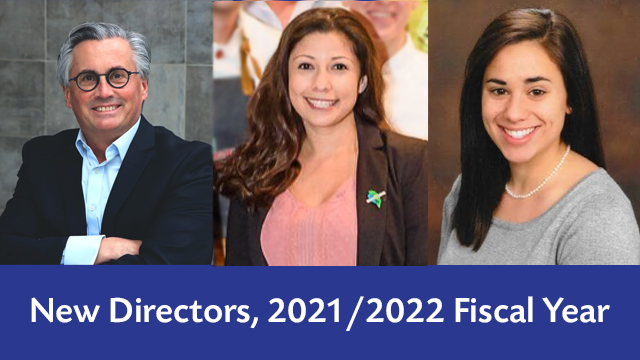 (PMCA — July 19, 2021) — During the Annual Meeting of Members held via conference call Thursday, June 17, 2021, three new directors were ratified as the newest members of the PMCA Board of Directors: Thomas Elsinghorst, Tomric Systems, Angie Sanchez, Barry Callebaut and Anne Puzak, Mars Wrigley. Their first terms began July 1, 2021, the start of the PMCA fiscal year 2021/2022.
Tom Elsinghorst is the president of Tomric Systems, a supplier of polycarbonate chocolate moulds, flexible packaging and chocolate handling equipment based in Buffalo, New York. When founded in 1962, Tomric offered retail confectioners seasonal and novelty designs for chocolate moulding, but over the years has expanded as a custom mould supplier for the confectionery industry as well as serving as the North American distributor for several chocolate handling equipment brands.
While Tom has had the pleasure of leading the business over the last 20 years, he also served in various sales and production management roles within the company. Tom currently sits on the PMCA Membership Committee and has also been a board member of Retail Confectioners International. Additionally, he was awarded the Henry J. Bornhofft Memorial Award in 2014 for service to the confectionery industry.
Tom and his wife Paula have two amazing children and reside in Buffalo with their dog Coco.
Angie Sanchez is Chair of PMCA's Marketing Committee and a member of the Production Conference Program Committee. She is currently marketing manager at Perkins Coie, LLP.
She has overseen tradeshows and events, advertising, industry relations and various projects since September 2015. Before this, she worked for National Pasteurized Eggs as a marketing associate, gaining experience in the foodservice and retail industries.
Angie holds a Bachelor of Arts degree in journalism from Northern Illinois University.
Anne Puzak is a chocolate product developer at Mars Wrigley in Hackettstown, NJ and has been in the confectionery industry for five years with involvement in raw material development, site support, value leadership and innovation. Anne received her bachelor's degree from The Pennsylvania State University in food science with a minor in chemistry. In her spare time, Anne enjoys running, reading, home improvement projects and planning her upcoming wedding in January. Anne has been involved in PMCA as an active member of the IT Committee for several years and stepped up as chair of the committee in 2019. In addition, Anne has recently taken on the responsibility of Social Media Chair.
During the meeting, two directors were renewed for second terms: Serena Bitzer, The Hershey Company and Carly Meck, Blommer Chocolate Company.
Serena Bitzer is a senior business analyst at The Hershey Company. In addition to serving on the board, Serena is an active participant on the Production Conference Program Committee. Over the past several years, she has chaired several sub-committees including the Hosted Display, Basics & Beyond and other special projects.
Carly Meck is R&D manager – product development at Blommer Chocolate Company. In addition to serving on the board, Carly has been the Student Outreach Committee Chair since 2017. She was the recipient of the Marie Kelso Memorial Award for her presentation at the 2018 Annual Production Conference.
About PMCA
PMCA is an international organization that enhances the companies and careers of confectionery and snack professionals through inspired learning and the building of long-term personal connections, which empowers our members to create products that bring people joy.