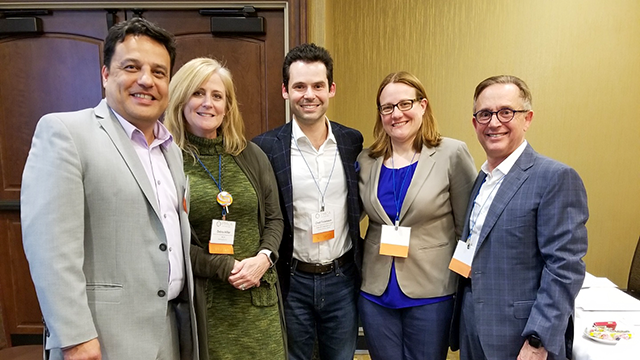 Food Safety & Regulatory Panel
(PMCA — December 4, 2019) — Among a crowded room of more than 90 participants, 18 speakers shared their insights on one of the most-talked-about topics facing our industry – the use of cannabis in confectionery and snack products.
This PMCA research symposium covered topics ranging from pharmacology, dispersion and dose control, product development, manufacturing, lab testing and supply chains to marketing, social responsibility, food safety, current regulations and legislation. The event was held Nov. 5-6, 2019 in Sacramento, CA.
Attendees were eager to embrace a vast amount of information and the Q&A panel format provided a great platform for engaging questions and lively discussion. Over the two days, networks and friendships were formed, with everyone eager to exchange ideas on how to navigate this rapidly-changing environment.
Proceedings from the event will be available for purchase from the PMCA office in the weeks ahead. Closing speaker Francis Boero of Gavenum LLP left everyone with an important thought to ponder: "This is a significant paradigm shift and we are part of a historical cultural change. We can be aloof or we can collaborate to forge a responsible path forward."
Quotes from participants:
"Being with you all this week to share information, ideas and needs was amazing. By far the best program I have participated in, thank you everyone at PMCA! You have set a new standard for science, professionalism and responsibility for cannabis-infused products. I look forward to continuing to work together – THANK YOU!"
"I found every speaker enlightening, informative and educated on their specialty."
"Overall, I look forward to another cannabis conference. As the market matures and significant advancements in research and testing, I know this will be relevant to food scientists within the industry. I commend PMCA for taking a significant stance."
"Great and well-rounded collection of speakers and topics!"
Symposium Sponsors
Bell Flavors & Fragrances
Tomric Systems, Inc.
Crosio and Associates
Symposium Topics & Speakers
Moderator & Overview
Adrian Timms, ATimms Consulting, LLC
US & Canadian Legislative Pathways
Javier A. Bastidas, Leland, Parachini, Steinberg, Matzger & Melnick LLP
Cannabis Edibles Pharmacology
Lawrence Blume, Ph.D., RTI International
Social Responsibility & Cannabis Infused Foods & Industry Next Steps
Francis J. Boero Ph.D., Gavenum LLP
Product Manufacturing – Chocolate Cannabis Infusion
Joel Fink, Fantasy Candies Chocolate Factory
US and Canadian Legislative Pathways
Chad Finkelstein, Dale & Lessmann, LLP
Basics of Candy Formulating
Michelle Frame, Victus Ars Inc.
Food Safety
Laurie Gerbers, Blommer Chocolate Company
Who is Buying Cannabis in Candies, Chocolates & Snacks?
Linda Gilbert, EcoFocus Worldwide
Flavors & Terpenes
Joan Harvey, Bell Flavors & Fragrances
Regulatory
Debra Miller, National Confectioners Association
Product Manufacturing – Gummies & Kindred Products
Carolina Mitchell, Ciencia Labs
Starch-Free Depositing & Dosage Accuracy
Tony Prange, Baker Perkins
Cannabinoids as Ingredients for Confection: Challenges & Solutions
Scott Riefler, SoRSE Technology
Dosing & Dispensing Technology
Professor Dérick Rousseau, Ryerson University
Navigating the Supply Chain – Perspective of Growers, Extractors & Active Suppliers
Quinn Shiskin, Valens Agritech
Cannabis in Foods – The Consumer View
Brian Sterling, SCS Consulting
Sophisticated Confectionery Production for the Cannabis Consumer
Fabian Toader, Swift's Brands
Analytical Testing – Certification & Testing Lab Perspective
Seth Wong, TEQ Labs
PMCA Research Symposium Committee
Jenna Derhammer, Blommer Chocolate Company (event Chair)
Nigel Sanders, Smart Confectionery Solutions, Inc.
Eric Schmoyer, Barry Callebaut (Research Committee Chair)
Adrian Timms, ATimms Consulting, LLC
Ed Wilson, retired, AAK USA
Disclaimer: PMCA does not endorse or promote the use of cannabis in confections or snacks. PMCA does, however, continue to be focused on technical and production issues related to the addition of all unique ingredients and processes relating to confection and snack products.
About PMCA
PMCA is an international association that enhances the companies and careers of confectionery and snack professionals through inspired learning and the building of long-term personal connections, which empowers our members to create products that bring people JOY!