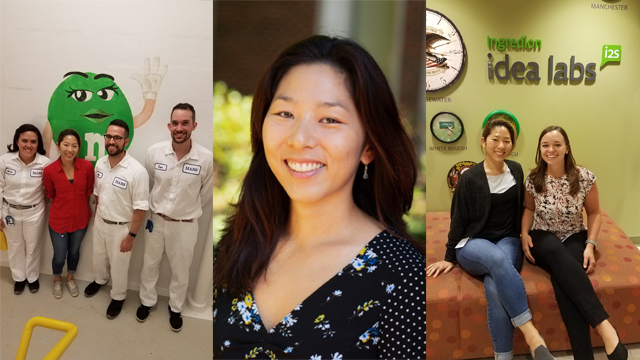 Terianne Hamada
(PMCA — December 2, 2019) — The Pennsylvania State University Food Science Cocoa, Chocolate and Confectionery group named Terianne Hamada as the recipient of the 2019 PMCA/Penn State Graduate Fellowship Award.
The purpose of the fellowship is to recognize and support outstanding graduate students enrolled or planning to enroll in the Department of Food Science at the Pennsylvania State University, to honor confectionery industry individuals named by PMCA, such as Peter van B. Heide, in perpetuity, and to promote and enhance the knowledge and image of the confectionery industry.
Terianne transitioned to the PhD program in the fall of 2019. She graduated from Whittier College, CA with a degree in chemistry. She has already completed one project on the sensory properties of chocolate.
Over the course of two weeks in the summer of 2019, Terianne visited eight PMCA member companies to experience different environments, talk to professional confectioners and gain a better understanding of how things work in the confectionery industry.
"Overall, my visits gave me a more well-rounded understanding of the confectionery industry, its parts and how it all comes together to make our favorite sweet treats," she said. "Along the way, I was able to share my own research and procure ideas for future studies."
Terianne expressed her enjoyment in observing diversity in departments and roles. "Before this internship, I thought the only jobs available were in product development, research and development or marketing. It was eye-opening to see the different branches of these departments, their different functions depending on location and to learn about all the departments I had not even known existed."
Terianne said this glimpse into the industry helped her imagine how her own future might look. "I hope the foundational knowledge that I now have will make me a better fit for this industry that I would like to be a part of someday." She expressed her gratitude to the host companies and all the people who took part in her visits and looks forward to joining the ranks of confectionery professionals in the future.
Special thanks go to the host companies:
Barry Callebaut
Blommer Chocolate Company
Eurofins
Firmenich
The Hershey Company
Ingredion
Mars Wrigley Confectionery
Warrell Creations
About PMCA
PMCA is an international association that enhances the companies and careers of confectionery and snack professionals through inspired learning and the building of long-term personal connections, which empowers our members to create products that bring people joy.