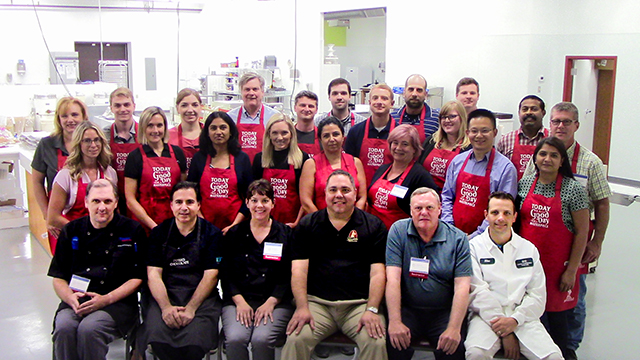 (PMCA — September 3, 2018) — First-time PMCA course host Fascia's Chocolates welcomed industry professionals to its facility to learn the basics and more of chocolate manufacturing. The course was held August 6-8, 2018 in Waterbury, CT.
Five experienced instructors led the training, which included the history of chocolate, tempering, moulding, enrobing and sustainability. Attendees also had the opportunity to create their own chocolate bark, truffle trees and practice artistry.
Student Commentary:
"I very much enjoyed learning more about tempering and found the tasting during the bean-to-bar process very helpful. I enjoyed the hands-on examples in the moulding lecture as well. Excellent job of blending educational content with practical demonstrations within lecture that complemented labs."
"The classroom sessions were well-organized and highly educational. The instructors made them very enjoyable, were clearly experts in their areas."
"Outstanding! So happy I took it."
"I came here with no knowledge of chocolate manufacturing. I feel I am leaving with a very good understanding and feel I will be able to understand what is needed to be done on the production floors. Thank you."
Course Instructors:
Kim Yoder, Barry Callebaut – lead instructor
Jim Bourne, Hilliard's Chocolate System
Brian Donaghy, Tomric Systems, Inc.
Joe Sofia, Cargill Cocoa & Chocolate
Nico Tomaselli, Lindt & Sprüngli
Special thanks go to the companies which donated equipment and ingredients for the course:
Barry Callebaut
Blommer Chocolate Company
Cargill
ChocoVision
Hilliard's Chocolate System
ifiGOURMET
Kellogg's
Lindt & Sprüngli
Linnea's Candy & Cake Supply
MC/Manufacturing Confectioner
Simplex Paper Box
Tomric Systems, Inc.
Tricor Systems Inc.
The following students received a course certificate of completion:
Emily Brau, Cargill
Idalee DiGregorio, Dynamic Strategies Catering
Evan Dodd, Haskell
Binu Eapen, AAK USA
Stephen Ganter, Blommer Chocolate Company
Evan Glynn, Lindt & Sprüngli
Bill Hurt, Old Kentucky Chocolates
Will Hurt, Old Kentucky Chocolates
Maya Keller, Gamay Food Ingredients
Sarah Mann, Barry Callebaut
Deb Niessen, Gamay Food Ingredients
Dave Parette, Frankford Candy & Chocolate Company
Tulsi Patel, Symrise
Kinjal Patel, Firmenich Inc.
Betsy Raasch, Ghirardelli Chocolate Company
Jason Ritchie, RM Palmer Co.
Fida Skayem, Fascia's Chocolates
Kevin Straub, Creo Chocolate
Heather Young, Mother Murphy's
Long (Joe) Zou, Bunge Loders Croklaan
About PMCA
PMCA is an international association that enhances the companies and careers of confectionery and snack professionals through inspired learning and the building of long-term personal connections, which empowers our members to create products that bring people joy.