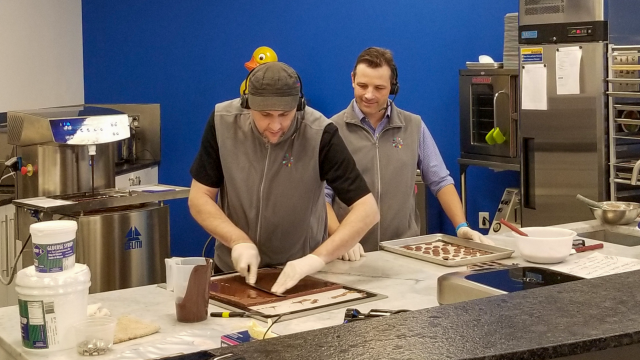 (PMCA — November 16, 2021) — Instructors and PMCA staff convened at Tomric Systems, Inc. in Buffalo, NY to live-stream PMCA's first virtual chocolate course Nov. 9-11. Over the span of three days, attendees learned fundamental aspects of chocolate manufacture and applications.
Five experienced instructors led the training, which included cocoa origins, chocolate processing and standard of identity on the chocolate manufacture side. They also explored tempering, moulding, enrobing and ganache basics through demos, answering attendee questions along the way. Attendees also received a chocolate tasting kit to participate in the sensory portions of the course.
Student Commentary:
"The instructors were perfect! Great subject matter experts and warm, fun and engaging presenters all around. You can feel everyone's passion for chocolate."
"Overall, the course was very well-designed, easy to follow, instructors were knowledgeable, and questions were welcomed. Thank you so much!"
"This is a must for anyone in the industry. While some of the content was a refresher for me, it was great to hear it again and fun to dive deeper so that I can better serve my customers and help troubleshoot and drive for solutions."
"It was great with no glitches…that never happens!
Instructors:
Jim Bourne, Hilliard's Chocolate System
Brian Donaghy, Tomric Systems, Inc.
Joe Sofia, Cargill Cocoa & Chocolate
Marlene Stauffer, Blommer Chocolate Company
Nico Tomaselli, Lindt & Sprüngli USA
We also thank the above companies for providing equipment, demo ingredients and tasting kit items.
The following students received a course certificate of completion:
Anne Baldzikowski, Cabrillo College
Moses Bayon, Gertrude Hawk Chocolates
Catherine Burke, Burke Candy & Ingredients
Alyssa Davis, Bellis Food Solutions
Austin Driscoll, Blommer Chocolate Company
Amelia Frazier, General Mills
Sophie Go, Lindt & Sprüngli USA
Bethany Hammer, Ghirardelli Chocolate Company
Emily Hunter, The Hershey Company
Rachel Jones, MANE, Inc.
Lauren Killian, The Hershey Company
Aaron Milhouse, Epogee LLC
Nick Pindale, Kocotek
Nancy Polito, Pyure Brands, LLC
Christopher Riley, Zachary Confections
Tal Smith, Granite State Candy Shoppe
Agnes Suleiman, Select Harvest
Anh Tran, The Hershey Company
Bonnie Turner, Callisons
Gema Velandrino, Pyure Brands, LLC
Michael Vu, Select Harvest
Dan Watje, Blommer Chocolate Company
About PMCA
PMCA is an international association that enhances the companies and careers of confectionery and snack professionals through inspired learning and the building of long-term personal connections, which empowers our members to create products that bring people joy.