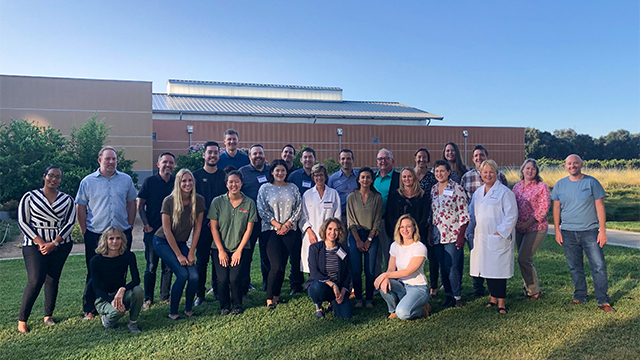 (PMCA — October 6, 2019) — First-time PMCA course host University of California, Davis welcomed industry professionals to its facility to learn the science and sensory of industrial chocolate manufacture. As part of its initiative to increase presence on the West Coast, PMCA was pleased to offer a chocolate course in this region for the first time. PMCA is continuing these efforts with the recent formation of a new regional committee, led by Rebecca Kuehn, Guittard Chocolate Company, to provide perspective on how to better serve the confectionery industry west of the Rockies.
Seven experienced instructors and two assistants led the training, which consisted of many topics including sustainability, bean processing, tempering, enrobing, sensory and food safety. A facility tour of Dandelion Chocolate in San Francisco treated attendees to chocolate bar samples, house-made hot chocolate and great discussion around chocolate manufacturing. The group also had the chance to experience an exclusive wine and chocolate pairing session led by Dr. Andrew Waterhouse, Director of the Robert Mondavi Institute for Wine and Food Science at UC Davis.
Student Commentary:
"All of the content was informative and delivered in a way that could be understood.
"Very impressed with all presenters. All friendly, professional and knowledgeable."
"This was an amazing course! I learned so much and this was great information to have on hand. I have a lot of context now into chocolate, which gives me great context for chocolate in bakery applications."
"I really learned what I came for – cocoa beans handling, processing, food safety and tempering chocolate! Loved the chocolate and wine pairing discussion and the Dandelion facility tour."
Instructors:
Marlene Stauffer, Blommer Chocolate Company – lead instructor
Dr. Linda Harris, UC Davis
Peter Jamieson, SPI Pharma
Dr. Don Livingstone, Mars Wrigley
Rose Potts, Blommer Chocolate Company
Nico Tomaselli, Lindt & Sprüngli
Selina Wang, UC Davis
Assisted by:
Ed Wilson, retired, AAK USA
Rebecca Kuehn, Guittard Chocolate Company
Thalia Hohenthal, Guittard Chocolate Company, was also instrumental in planning this course.
Special thanks go to the companies which provided instructors, equipment and ingredients for the course:
Blommer Chocolate Company
Dandelion Chocolate
Guittard Chocolate Company
Lindt & Sprüngli
Mars Wrigley
SPI Pharma
Tricor Systems Inc.
UC Davis
The following 21 students received a course certificate of completion:
Cynthia Angelo, Givaudan Flavors
Mike Boaen, Fuji Vegetable Oil
John Cahill, MANE
Anjuli Dharna, Uncommon Cacao
Mike Griffin, Fuji Vegetable Oil
Tony Kendig, Jerome & Horner
Arsema Kidane, Ghirardelli Chocolate Company
Yvette Kopoushian, Blommer Chocolate Company
Aaron Leong, Ghirardelli Chocolate Company
Ed Luck, Jerome & Horner
Marjan Morravej, FDA
Brittany Ray, Sconza Candy Company
Laura Santo, Blommer Chocolate Company
Brandon Sermaine, PTL
Nicole Silva, Sconza Candy Company
Joe Stevick, Madécasse
Janet Straub, Creo Chocolate
Tim Straub, Creo Chocolate
Ron Sweetser, Dandelion Chocolate
Allison Voll, Victus Ars
Andrea Weis, AAK
About PMCA
PMCA is an international association that enhances the companies and careers of confectionery and snack professionals through inspired learning and the building of long-term personal connections, which empowers our members to create products that bring people joy.