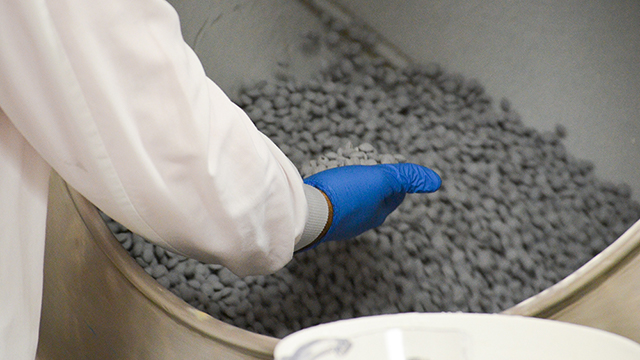 (PMCA — December 7, 2017 — Bethlehem, PA) — Long-time PMCA course host, The Warrell Corporation, once again welcomed industry professionals to their facility to learn about panning a variety of confections. This highly popular course was held November 27 through December 1, 2017 in Camp Hill, PA.
Eight experienced, confectionery industry veterans led the training, which included panning basics, soft, hard and chocolate panning, panning room design and layout and finishing and polishing. In addition, The Warrell Corporation provided attendees with the opportunity to try their hand at the hot panning process.
Student Commentary:
"I loved it! Lots of hands on time!"
"I could not recommend this more highly, great job!"
"Really great course and great, enthusiastic, engaged teachers."
"The hands-on experience and learning from other class members was invaluable!"
PARTICIPANTS EARNING A CERTIFICATE OF COMPLETION
Emma Afshin, Barry Callebaut
Kal Ali, The Hershey Company
Kristine Bender, Blommer Chocolate Company
Desiree Bramble, Church & Dwight
Kris Bronner, Unreal Candy
Francisco Cespedes, Koppers Chocolate
Lauren Deitsch, Unreal Candy
Heather Dolan, Edward Marc Brands
Shishir (Vic) Dugar, Nutri Sweets Pvt Ltd
Danielle Feinberg, Godiva Chocolatier
Randall Fisk, The Warrell Corporation
Alex Funk, Blommer Chocolate Company
Mike Geiling, The Warrell Corporation
Mikhail Katsman, Crazy Berries
Jessica Kunz, Tate & Lyle
Dennis Kusturiss, Church & Dwight
Holly Long, Hormel Foods
Timothy Lukavsky, Wrigley
Ken McConnell, Temuss
Carly Meck, Blommer Chocolate Company
Tracy Mulcahy, Georgia Nut Company
Joao Oliveira, Koppers Chocolate
Katie Palaganas, Church & Dwight
Akshay Patel, Church & Dwight
Chad Rieschl, Cargill
Jim Shafer, Mantrose-Haeuser
Kevin Straub, Creo Chocolate
Michele Till, Church & Dwight
Andrew Wong, Church & Dwight
COURSE INSTRUCTORS
PMCA thanks those individuals and companies that graciously donated instructors, ingredients, products or other items to the success of the course as follows:
Michelle Frame – Course Lead, Victus Ars
Scott Bergeron, Mantrose-Haeuser
Pam Gesford, The Hershey Company
Michael Gordon, Georgia Nut Company
Terry Gross, The Warrell Corporation
Anthony Habib, Habib Global Consulting
Peter Jamieson, Atlas Point Technical Services
Walter Vink, Vink Associates, Inc.
DONATIONS OF INGREDIENTS, EQUIPMENT, SAMPLES AND SUPPLIES
Bell Flavors and Fragrances
Blommer Chocolate Company
Capol LLC
Colorcon
Domino Sugar
Ferrara Candy Company
Ford Gum
Ingredion
Mantrose-Haeuser
The Warrell Corporation
About PMCA
PMCA is an international organization that enhances the companies and careers of confectionery and snack professionals through inspired learning and the building of long-term personal connections, which empowers our members to create products that bring people joy.