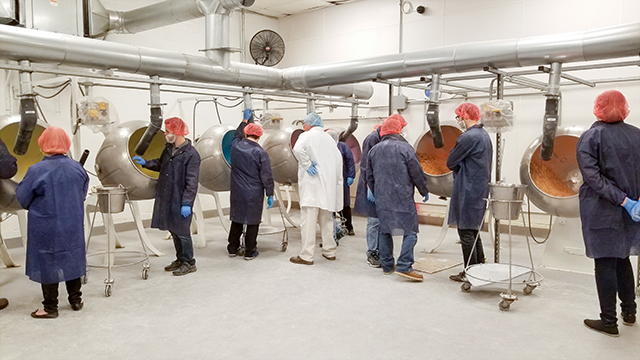 (PMCA — November 13, 2018) — Thirty-two students representing a variety of companies participated in the PMCA Panned Confections Short Course held November 6-9, 2018 at Richardson Brands in Canajoharie, NY.
Six experienced and highly-skilled instructors provided a mix of classroom and practical training related to panning basics, soft, hard and chocolate panning, panning room design and layout and finishing and polishing. Each student received a course book as well as electronic copies of presentations and handouts and took home a variety of sample product they made with their fellow students.
Student Commentary:
"I would send every new employee here."
"Very informational and fun. Instructors were knowledgeable and helpful. Thank you!"
STUDENTS EARNING A CERTIFICATE OF COMPLETION
Kathleen Abrams, ADM Nutrition
Neha Bangar, Student – Feve Chocolates
Kim Bockenstedt, Signature Brands
David Brown, Signature Brands
Mateusz Brukasz, Altria
Jason Cagle, Sconza Candy Company
Cara Dziuda, Sweet Candy Company
Eric Fernandes, Mantrose-Haeuser Co., Inc.
Zachary Freed, AAK
Rebecca Green, Richardson Brands
Ed Hart, Richardson Brands
Ian Herber, Jarani Ltd.
Chris Kazilias, Richardson Brands
Aadil Khan, ASA Enterprises Ltd.
Kevin Klump, Richardson Brands
Madeline Levin, Kerry
Benjamin Lira-Luttges, Comercial Tarco PERU Limitada
Ethan Meth, Colorcon
Mary Lou Moot, Richardson Brands
Nsa'nkwe'ni Nsissae, Capol
Paige Palmieri, Ferrara Candy Company
Borys Polon, Premium CoPack
Helena Polon, Premium CoPack
Brittany Ray, Sconza Candy Company
Alexander Rodriguez, Moment Brands
Laura Santo, Blommer Chocolate Company
Dennis Teets, Organic Nectars
Stephen Treccase, Organic Nectars
Matthew Vander Veur, Blommer Chocolate Company
Shiao Williams-Sheng, PLUS Products
David Yorks, Richardson Brands
Travis Zissu, GNT USA
PMCA is grateful to the individuals and companies that graciously donated instructors, ingredients, products or other items to the success of the course as follows:
COURSE INSTRUCTORS
Michelle Frame – Course Lead, Victus Ars
Susan Coleman, Mantrose-Haeuser Co., Inc.
Pam Gesford, The Hershey Company
Anthony Habib, P.I.M. Brands
Eric Schmoyer, Barry Callebaut
Walt Vink, Vink Associates Inc.
Assisted by Megan Coffey, Victus Ars
DONATIONS OF INGREDIENTS, EQUIPMENT, SAMPLES & SUPPLIES
Barry Callebaut
Georgia Nut Company
Ferrara Candy Company
The Hershey Company
IFC Solutions
Just Born
Mantrose-Haeuser Co., Inc.
Richardson Brands

About PMCA
PMCA is an international organization that enhances the companies and careers of confectionery and snack professionals through inspired learning and the building of long-term personal connections, which empowers our members to create products that bring people joy.