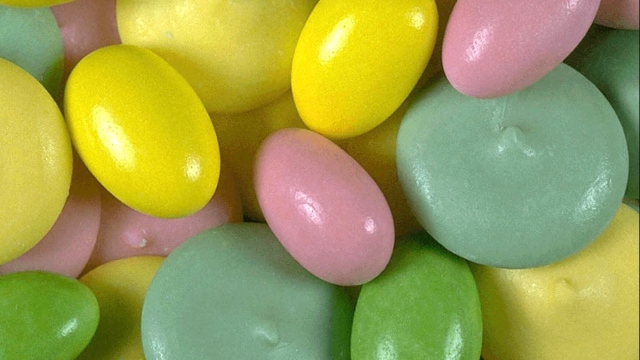 (PMCA — May 10, 2013 – Bethlehem, PA) — Thirty-one students representing a variety of companies participated in the PMCA Panned Confections Workshop held March 5-8, 2013 at the Warrell Corporation in Camp Hill, PA.
Nine experienced and highly-skilled instructors provided a mix of classroom and practical training related to the science of panning, equipment, soft, hard, hot and chocolate panning, finishing and polishing and the use of colors and flavors in panned confections. Each student received a comprehensive course book containing all the presentations and practical exercises and was able to take home a variety of sample product they made with their fellow students.
Students earning a certificate of completion for the course:
Mark Czerczak, Confectionery Arts
Armon DeMarco, Chocolatisimo
Priscilla Fernandes, Mantrose Haeuser Company
Chef Peter Greweling, Culinary Institute of America
Melanie Hall, The Hershey Company
Kevin Hanak, Bissinger's Handcrafted Chocolatier
Caitlin Harvey, Blommer Chocolate Company
Julie Hickey, The Hershey Company
Eugene Jang, Brooklyn, NY
Jessica Janning, Capol LLC
Rajarajeshwari Kainthaje, Bgirow Agro Tech(P) Ltd.
Lauren Killian, The Hershey Company
Marie Loewen, Blommer Chocolate Company
Elizabeth Luther, Concord Foods, Inc.
Leah Miller, The Hershey Company
Sirisha Muppidi, Barry Callebaut
Adrian Poh, Flora International
April Richter, The Hershey Company
Alex Riesche, Kerry Ingredients & Flavors
Jennifer Russell, World's Finest Chocolate
Matt Schuck, Terri Lynn Inc.
Doug Sterling, Dr. Paulo's Farms
Tiffany Strahan, The Hershey Company
Sokhomari Suon, EMD Chemicals
Mike Thornton, Chocolate Fusions
Melissa Tisoncik, Blommer Chocolate Company
Julio Alberto Torres, Dawn Food Products, Inc.
Dave Weil, Gertrude Hawk Chocolates
Joe Witt, Bissinger's Handcrafted Chocolatier
Kim Yoder, Cargill Cocoa & Chocolate
Greg Zarnoski, Gertrude Hawk Chocolates
PMCA was most grateful to all those individuals and companies who graciously donated instructors, ingredients, products or other items to the success of the course as follows:
Course Instructors:
Katherine Clark Capol, LLC
Cindy Cosmos Bell Flavors & Fragrances
Michelle Frame Colony Brands – Swiss Colony
Jim Greenberg Union Confectionery Machinery Co.
Terry Gross The Warrell Corporation
Peter Jamieson Ingredion Incorporated
Gale Myers Sensient Colors, Inc.
Walter Vink Vink Associates, Inc.
Dennis Zak TMResource, LLC
Donations of ingredients, equipment, samples and supplies: Bell Flavors & Fragrances, Blommer Chocolate Company, Capol, LLC, Domino Specialty Ingredients, EMD Chemicals, Ford Gum, The Hershey Company,Ingredion Incorporated, Jelly Belly Candy Co., Sensient Colors, Inc., Union Confectionery Machinery Co., TRICOR Systems, Inc., TMResource, LLC, Vink Associates, Inc., The Warrell Corporation
PMCA is a non-profit international trade association in the confectionery industry whose goals are to provide open forums for the free exchange of technical information through its annual production conference, to promote and direct basic and applied scientific research in the science of chocolate and confectionery through its research program at leading universities and to educate and train technical and manufacturing personnel worldwide through its short course program. The organization was originally founded in 1907 as the Pennsylvania Manufacturing Confectioners' Association.