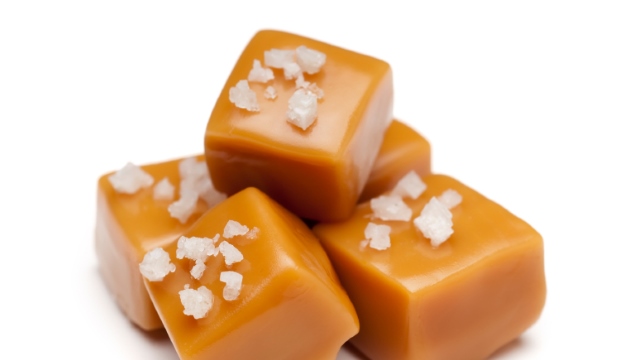 (PMCA — November, 2014 – Bethlehem, PA) — Twenty-eight students from a variety of companies both domestic and international completed PMCA's short course, "Caramel-Fudge-Toffee". The course was held in York, PA from Tuesday, November 11 through Friday, November 14. Mark Heim, retired after a 38-year career with The Hershey Company, acted as lead instructor, sharing his wealth of experience with the class. Topics covered included confectionery component and ingredient basics, processing fundamentals, sugar-free confection basics and troubleshooting.
The Warrell Classic Caramel Company, York, PA generously hosted the hands-on portion of the course. For two full days, students had the opportunity to prepare batches of caramel, fudge and toffee in small groups. Experimenting with several different recipes students learned the effects of various ingredients on the resulting quality, color and texture of the product. Attentive instructors were always available to demonstrate techniques and answer questions. Each day after the hands-on portions of the course, students evaluated their finished product and discussed quality control issues. Students also had the opportunity to tour the Classic facility, which allowed them to witness the inner workings of live production. As a special treat for the entire class, The Warrell Classic Caramel Company graciously hosted a welcome dinner at a nearby restaurant.
2014 Caramel-Fudge-Toffee Course Student Commentary:
"I learned a great deal and enjoyed it very much. The hands-on was a great experience and reinforced the theory. I would highly recommend this course!".
"It is no surprise that there is a waiting list for this course. I have both participated in and lead good and bad courses. For me, this one ranks among the best".
"Excellent instructors! Good communication skills, thorough, willing and able to address many different questions for all of us though we're not all in the same food-related industry".
The success of a course of this type involves many months of planning along with participation and contributions from a variety of PMCA member companies.
Course instructors:
Mark Heim, Confectionery Consulting
Terry Gross, The Warrell Corporation
Hannah Gray, The Warrell Corporation
Peter Jamieson, Atlas Point Technical Services
The following companies made a variety of contributions to the course:
Course Donations:
Ingredients, supplies and equipment: The Warrell Corporation, Atlas Point Technical Services, Blommer Chocolate Company, Cargill Cocoa & Chocolate, David Michael & Co., Ingredion, Galloway Company, Loar & Young
The following students received a certificate of completion for the course:
Spencer Coletta, The Warrell Corporation
Renato Cossi, Harald
Jon Finch, Gertrude Hawk Chocolates
Daniel Forgey, Norman Love Confections
Carmen Fung, Ghirardelli Chocolate Company
William Glennon, DeMet's Candy Company
Leigh Hartmann, Edward Marc Brands
Nancy Hunt-Harvey, DeMet's Candy Company
Rick Janssens, Andea Chocolates
Chris Kitchen, DeMet's Candy Company
Marie LeBeller, PROVA, Inc.
Tara Levin, David Michael & Co.
Betsey Luther, Concord Foods Inc.
John Macris, Philadelphia Candies
Mani Mahmood, DeMet's Candy Company
Donna McAleer, Bixby & Co.
Anna Niberg-Zehngraff, Karamel Kompagniet
Carsten Niberg-Zehngraff, Karamel Kompagniet
Stephanie Sia-Brady, Star Kay White, Inc.
Joe Sofia, Cargill Cocoa & Chocolate
Roman Stefanelli, Romolo Chocolates
Donna Studenka, Loders Croklaan
Sarah Teichert, AAK
Jessica Teresky, The Warrell Corporation
Amanda Thomason, Snyders-Lance
Serena Wang, The Hershey Company
David Weil, Gertrude Hawk Chocolates
Kim Yoder, Cargill Cocoa & Chocolate
PMCA is a non-profit international trade association in the confectionery industry whose goals are to provide interactive forums for the open exchange of information through its annual production conference, to promote and direct basic and applied scientific research through its research program at leading universities and to educate and train current and future confectionery technical and manufacturing personnel worldwide through its short course program. The organization was originally founded in 1907 as the Pennsylvania Manufacturing Confectioners' Association.