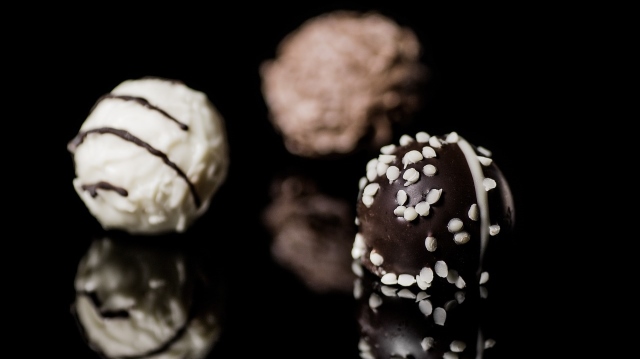 (PMCA — June 20, 2016 – Bethlehem, PA) — Twenty-two students experienced the joy and the challenges of making premium handmade confections during PMCA's Premium Chocolate Centers course held June 7-10, 2016 at Gertrude Hawk Chocolates in Dunmore, PA.
Chef Peter Greweling, award-winning instructor of baking and pastry arts at the Culinary Institute of America and Mark Heim, R Mark Heim Confectionery Consulting, provided the perfect combination of art and science to make confectionery products of the highest quality.
With a wide array of ingredients available, students were able to practice making many types of centers including fondants, crèmes, croquants, sugar crust, gianduja, meltaways, pates de fruit and ganache. The course covered many of the parameters essential to producing premium products including basic recipes, textures and flavors, ingredient variables, manufacturing methods and shelf life considerations. Students were delighted to be treated to a tasting evaluation session that helped them to recognize and troubleshoot production issues.
Each student left the course with their very own collection of beautiful confections, abundant reference material and a copy of Chef Peter Greweling's book Chocolates and Confections, Formula, Theory and Technique for the Artisan Confectioner.
2016 Premium Chocolate Centers course student commentary:
"The instructors spoke eloquently, confidently and clearly without error and with many great analogies and examples. They definitely got the point across and I learned a lot."
"The PMCA course was fabulous and we really learned a great deal."
"I found this course to be extremely beneficial from the content to the instructors to the actual facility. I can say that I learned things in this course that I will be able to use in the near future!"
The following students received a certificate of completion for the course:
Chris Andrews, Stefanelli's Candies
Sean Burns, Sollich North America, LLC
Jason Cordaro, Gertrude Hawk Chocolates
Erin Crane, DeMet's Candy Company
Michelle Frame, Victus Ars
Jim Hickey, DeMet's Candy Company
Katie Hyland, Concord Foods
Rick Janssens, Andea Chocolates
Andrea Kregel, Stefanelli's Candies
Marie LeBeller, PROVA
Marie Loewen, Blommer Chocolate Company
Rose Lowe, Gertrude Hawk Chocolates
John Macris, Philadelphia Candies
Donna McAleer, Bixby & Co.
Gordon McAleer,Bixby & Co.
Michelle Pastuha, Stefanelli's Candies
Yesenia Salas, Gertrude Hawk Chocolates
Jennifer Updegrove, Shank's Extracts
Alicia Wang, Gertrude Hawk Chocolates
Andy Wilbur, Wilbur's of Maine
Brian Wilson, PROVA
JoAnn Young, DeMet's Candy Company
PMCA
Enhancing the companies and careers of confectionery and snack professionals through inspired learning and the building of long-term personal connections, which empowers our members to create products that bring people joy!