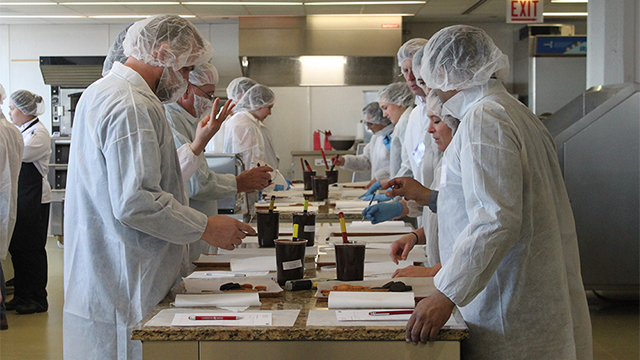 (PMCA — April 21, 2019) — First-time PMCA course host Barry Callebaut welcomed industry professionals to its facility to learn the science and applications of chocolate compounds. Originally part of the Chocolate and Compound Manufacture and Use course, the compound section was split out into its own mini-course and held March 12-13, 2019 in Chicago, IL.
Three experienced instructors led the training, which included what compounds are, different types of compounds, processing, analytics and applications.
Student Commentary:
"Zach, Ed and Eric were great to listen to and learn from. Their explanations and discussion were relevant and validated my decision to enroll in this course!"
"The information covered on compounds was very relevant and practical when it comes to how I can use in my day-to-day work."
"Looking forward to my next PMCA course!"
Instructors:
Zachary Freed, AAK USA – lead instructor
Eric Schmoyer, Barry Callebaut
Ed Wilson, retired, AAK USA
Special thanks go to the companies which donated equipment and ingredients for the course:
AAK
Barry Callebaut
Beneo
Hamburg Dresdner Maschinenfabriken
The following students received a course certificate of completion:
Denise Catini, Divi's Laboratories, Inc.
Sebastian Clemens, Bühler
Gabrielle Draper, Barry Callebaut
Binu Eapen, AAK USA
Amelia Frazier, General Mills
Haim Grinspan, Mane, Inc.
Chad Hackenbracht, Tastee Apple, Inc.
Bob Johnson, Fuji Vegetable Oil
Alfonso Lou, Chocolate Rico, S.A.
Alan Lou, Chocolate Rico, S.A.
Ethan Meth, Colorcon
Joanna Mozdyniewicz, Mars Wrigley
Mike Murray, Tastee Apple, Inc.
Natalie Myers, Colorcon
Deb Niessen, Gamay Foods
Tom Oliver, AAK USA
Sravanti Paluri, Nestlé
Daniel Punzal, Blommer Chocolate Company
Katherine Revels, Fuji Vegetable Oil
Brian Wilson, Prova, Inc.
Amanda Zadroga-Cantada, ADM
About PMCA
PMCA is an international association that enhances the companies and careers of confectionery and snack professionals through inspired learning and the building of long-term personal connections, which empowers our members to create products that bring people joy.