2022 Supplier Show Floorplan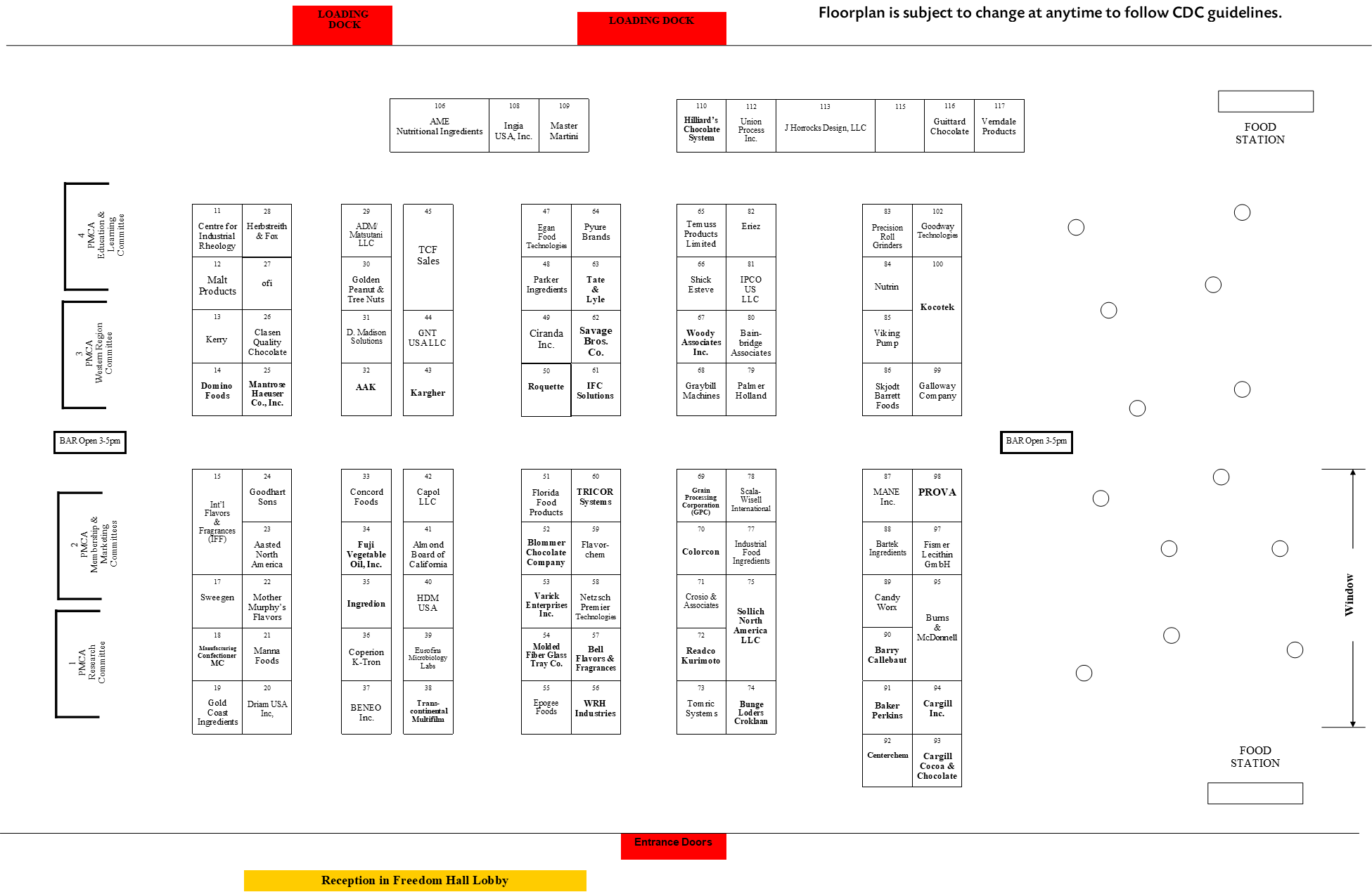 *AAK
Booth 32
AAK is a world leader in supplying specialty fats to the chocolate and confectionery industries. With a true legacy of confection experience, our solutions for the confectionery industry cover a wide range of product applications, including chocolate and compound fats for coating and molding, filling fats, barrier fats and spreads. Our product range offers additional benefits that include improved mouthfeel and prolonged bloom stability for a longer shelf life. Most of our products can be offered as non-hydrogenated, zero trans and low in saturated fat.
Aasted North America
Booth 23
Aasted North America will exhibit confectionery, bakery, and snack food equipment.
ADM/Matsutani LLC
Booth 29
Fibersol® is a premier line of soluble prebiotic fibers offering developers a wide range of solutions to give consumers tasty, fiber-full, well tolerated foods and beverages with satiety benefits. Fibersol is backed by over 30 years of clinical research and almost 100 published studies that demonstrate its physiological benefits.
Almond Board of California
Booth 41
Consumers around the world continue to love chocolate, just as they continue to crave California almonds. The Almond Board of California's 2020 Global Chocolate Study reports that almonds are the number one ingredient surveyed global consumers select for their "ideal" chocolate product. According to Innova Market Insights, confectionery is the top category for global new product launches with almonds. Within confectionery, almonds star in better-for-you, free-from and clean label products that don't compromise on indulgence. Surveyed consumers also perceive almonds as the top nut for making chocolate more nostalgic, natural, higher quality, and guilt-free.
AME Nutritional Ingredients
Booth 106
AME Nutrition is well positioned to handle your supply chain needs in the North American territory. We have both plant based and dairy ingredients like conventional crisps, emulsifying and texturizing culture, all crepe flakes for great texture and taste, vegan fat powder like coconut powder, camelina powder for both snacks and confectionery.
Bainbridge Associates LLC
Booth 80
Your reliable connection for confectionery, snack, and bakery equipment. Bainbridge Associates was established in 1996 to provide a domestic sales and service resource for many of the world's leading manufacturers of processing equipment.  Offering solutions for product categories including Gums & Jellies (with or without Actives), Wafers, Extruded Snacks, Chocolate Moulded items, and Chocolate Enrobed products. Companies represented: TANIS, HEBENSTREIT GMBH, IMPERIAL DESIGN TECHNOLOGIES, KNOBEL, CAVANNA USA.
*Baker Perkins, a Schenck Process Group
Booth 91
Baker Perkins is a confectionery equipment manufacturer. We make lab scale to full scale line equipment for producing gummies, hard candy, caramels, toffees, lollipops, and a variety of other products. We are also now part of the Schenck Process Group which adds additional like capabilities as needed.
*Barry Callebaut
Booth 90
We will feature Accent™ by Barry Callebaut which is a contemporary line of chocolates expertly crafted to meet the standards of passionate confectioners like you, with a range of flavors and functionality for all your confection needs today and tomorrow. Every batch of Accent™: has the below 5 promises :
1. Uses select quality ingredients to consistently deliver the most refined flavors
2. It includes distinct flavor profiles, designed from sensory profiling to ensure differentiation of flavors
3. It delivers the same taste every time through our guaranteed sensory testing with each batch.
4. It is expertly designed to meet confectioners' performance standards by BC's trusted R&D and chef teams that have multi decades of experience.
5. Accent uses 100% sustainably sourced cocoa
For top quality you can trust, each batch is evaluated by Barry Callebaut's sensory panel before it is released for delivery. Barry Callebaut is here to support your creations for today & tomorrow with Accent™
Bartek Ingredients
Booth 88
For over 50 years Bartek Ingredients has proudly served as the world leader in the production of malic acid, fumaric acid and acidulant based solutions for food and confectionery applications. Bartek will be featuring their newest product, PecmateTM, which is an exciting advancement in pectin-based gummy and soft candy formulation. PecmateTM improves product formulations by helping overcome many production challenges, such as controlling the gelling behavior of pectin by maintaining stable pH throughout the process, all while providing gummies and soft candies with better consistency, clean release from molds, and candies that hold their shape. With PecmateTM, Bartek is happy to help confectionery and gummy VMS manufacturers lower production costs and capitalize on current consumer trends with ease.
*Bell Flavors & Fragrances
Booth 57
Bell will feature the latest trending flavors and technologies created for the confectionery and snack food industries.
BENEO Inc.
Booth 37
BENEO's added value ingredients are derived from non-GMO, natural sources and include prebiotic chicory root fiber, the functional carbohydrates Isomalt and Palatinose™, rice starch, rice protein and other plant-based protein. BENEO is the ideal partner to improve a product's nutritional and technological profiles. In addition to sugar and fat reduction, benefits include fiber enrichment, improved digestive health, sustained energy, blood sugar and weight management, among others. Through a unique chain of expertise, BENEO supports industry partners during their entire product development process. At their booth, BENEO will sample no added sugar chocolate with chicory root fiber, chocolate with Palatinose™ for sustained energy and low glycemic benefits, and sugar-free kettle corn with isomalt.
*Blommer Chocolate Co.
Booth 52
Manufacturer of a full line of milk and dark chocolate coatings, natural and alkalized cocoa powders, chocolate liquor, cocoa butter, confectionery coatings, semi-sweet milk and compound drops.
*Bunge Loders Croklaan
Booth 74
Whether you want to make coated bars that snap, truffles with luxurious melt, or creamy spreads, we can help. Our portfolio of confectionery fats enables the versatile premium sensory experiences that the confectionery segment demands. We offer coating fats, filling fats, and spreading fats that deliver benefits like great mouthfeel, fast meltaway, smooth texture and more. Our key sustainability options include RSPO and traceability, and for healthier choices we can help reduce added sugars. What's more, our team is ready to create specific solutions together with you to solve your toughest application challenges.
Burns & McDonnell
Booth 95
At Burns & McDonnell, our engineers, architects, construction professionals, scientists and consultants do more than plan, design, and construct. With a mission unchanged since 1898 — make our clients successful — our more than 8,000 professionals' partner with you on the toughest challenges, constantly working to make the world an amazing place. From engineering through procurement, construction & commissioning, Burns & McDonnell delivers total project solutions for the food & consumer products industry. A full range of integrated services allows us to be flexible when projects change and successfully meet our clients' needs. Our project experience includes design-build installation, new product rollouts, process & packaging, facility audits, food safety and food defense, controls automation and systems integration, ammonia refrigeration, and environmental services.
CandyWorx
Booth 89
CandyWorx is a trusted custom equipment and solutions provider for the confectionery, chocolate, and cannabis industries with benchtop and full-scale options. Our benchtop equipment, including the DepositMoreTM Jr., Mini REVOLVTM Belt Coater, and polishing pans, provides a solution for research and development applications. The Cacao Cucina® line of equipment is designed for boutique artisan chocolate businesses. Our high-quality and technically correct machinery is made here in the United States then installed and serviced throughout the world.
Capol LLC
Booth 42
Capol will have trained technical staff available and exhibit it's broad range of waves, polishes, shellacs, anti-sticking agents and natural colors at the 2019 Supplier Show to meet your every need for excellent surface treatment products.
*Cargill
Booth 94
As a global ingredient leader, Cargill offers an extensive portfolio of ingredient solutions to meet your formulation goals for indulgence, sugar reduction, label-friendly, non-GMO, organic and beyond – together with proven application expertise to successfully tailor solutions to your unique challenges and goals. Our ingredient portfolio includes sugar, stevia, erythritol, chicory root fiber, starch, lecithin, hydrocolloids and more.
*Cargill Cocoa & Chocolate
Booth 93
Cargill Cocoa & Chocolate will be featuring five unique brands. Peter's® Chocolate remains traditional and loyal to its distinct Swiss heritage. Merckens® showcases a spectrum of color with is Rainbow™ Wafer line. Wilbur® Chocolate features a traditional line of authentic American chocolates. Gerkens® Cocoa offers a full line of Dutched and natural cocoa powders. Veliche® is 100% Belgian chocolate.
*Centerchem, Inc.
Booth 92
Showcasing our diverse product line. MasterCoat® is Centerchem's new product line containing polishes, glazes and surface treatment agents all made in the USA. Additionally, Maxinvert® invertase available in three liquid and powder activities, enzymes for fruit and vegetable processing and firming, olive oil clarification, enzyme systems for dietary and nutritional supplements, quinine bittering agents for use in beverages and flavors, Candurin® pearlescent pigments and a complete line of natural and synthetic colorants in a broad range of dispersions and solutions.
The Centre for Industrial Rheology
Booth 11
Talking about our experience of measuring the physical properties of materials, providing practical remote training and offering consulting services within the field of rheology to product and process developers.
Ciranda, Inc.
Booth 49
Ciranda is an employee-owned company supplying certified organic, non-GMO and fair-trade ingredients to the confectionery industry with expertise in tapioca and rice syrups; agave syrup; honey; tapioca and potato starches; cocoa and chocolates; coconut products; liquid and powdered lecithins; and RSPO-IP certified sustainable palm oils.
Clasen Quality Chocolate
Booth 26
CQC will be showcasing our compound coatings and chocolate for manufacturers with reliable deliveries in a time of unreliable market supply.
*Colorcon
Booth 70
Colorcon is a manufacturer and supplier of quality products to the confectionery market segment.
Concord Foods
Booth 33
Concord Foods, LLC is a leading supplier of retail food products and custom ingredients to nationally recognized supermarkets, food service operators and leading food manufacturers. Our retail division offers a wide variety of produce friendly items from Candy Apple Kits to produce seasoning mixes. Consumers count on our quality products to glaze pies, create guacamole and batter onion rings. Our ingredients division develops and custom designs products for the food service, confectionery, ice cream and dairy industries including beverage bases, syrups, toppings, variegates, flavor bases, baking mixes, breaders and batters.
Coperion K-Tron
Booth 36
Coperion and Coperion K-Tron a world leader in feeding and extrusion technology, bulk material handling systems, components, and services. Coperion offers a variety of food systems and equipment designs including batch unloading and high accuracy weighing applications, continuous operations including feeding and conveying, food technology expertise in extrusion processes, as well as designing automated systems for ingredient receipt all the way through to delivery. The systems and equipment provided by Coperion ensure optimal product and process safety, including compliance with EHEDG, FDA, FSMA and/or GFSI initiatives, standards, and regulations.
Crosio & Associates, Inc.
Booth 71
We will present videos and brochures for Hansel Processing, Pinco, Treiber Trays and Winkler und Dunnebier (WDS)
D. Madison Solutions
Booth 31
Technology for the production of chocolate, creams and systems for flow pack wrappers, distribution systems, cartoning and case packing.
*Domino Foods, Inc.
Booth 14
Full range of sugar cane-based sweeteners, bitterness blockers, and sweetness enhancers.
Driam USA, Inc.
Booth 20
Driam USA will present various batch and continuous coating technologies for sugar, soft-sugar, and chocolate applications. Innovative material handling equipment and processing technologies as it related to coating and panning will also be offered.
Egan Food Technologies
Booth 47
Egan Food Technologies supplies customized food process machinery for the confectionery, baking, snack and pet food industries. We also rebuild, service and supply parts and auxiliary equipment for chocolate molding, depositing, extruding, slab forming and baking equipment – even if we didn't originally build the equipment. All Egan Food Technologies equipment is made at our Grand Rapids, Michigan headquarters, conveniently located for both design and service. With Egan, there's no need to hassle with overseas manufacturers' long lead time and service.
Epogee
Booth 55
EPG, a fat ingredient derived through revolutionary food technology that delivers the benefits for traditional fats with 92% fewer calories.
Eriez
Booth 82
Eriez has protected the food industry for more than 75 years. We will be displaying our magnetic separation equipment and will have factory-trained experts on hand to answer any questions on our complete range of separation, detection and material handling equipment.
Eurofins Microbiology Laboratories, Inc.
Booth 39
Eurofins Microbiology Laboratories strives to deliver a comprehensive test portfolio, breadth and depth of microbiology service offerings, rapid result turnaround time, and competitive price points. In addition, our technical know-how is a bonus for customers needing an extra hand, including food safety program development to spoilage and pathogen prevention strategies.
Fismer Lecithin
Booth 97
Fismer Lecithin will be exhibiting Lecithinated Fractions for chocolate coating.
Flavorchem
Booth 59
Consumers seek out both decadent and permissibly indulgent moments for "feel good" sweet treat experiences. Our first application showcases consumer excitement for seasonal and nostalgic flavors as many seek out upscale twists on comforting and familiar flavors. Our second application highlights the evolution of health signaling fruit flavors with a spotlight on citrus.
Florida Food Products (formerly known as Comax Flavors)
Booth 51
FFP is committed to real, simple and better ingredients offering the premium taste profiles consumers demand.
*Fuji Vegetable Oil, Inc.
Booth 34
Fuji Vegetable Oil technical experts are available to provide guidance and recommendations on product selection, and troubleshooting for confectionery coatings, centers, and fillings as well as customer specific needs. For over 30 years, Fuji has focused on providing the highest quality confectionery fats including CBE's, CBR's, and CBS's. With operations in Savannah, GA and our newly added facility Avondale, LA Fuji Vegetable Oil is well positioned to support our customers across North America.
Galloway Company
Booth 99
Manufacturers of sweetened condensed milk, evaporated milk, and other blended fluid dairy products.
GNT USA
Booth 44
EXBERRY® is the premier brand of natural colors for the food and beverage industry. Through a gentle process of chopping, pressing, filtering and blending, fruits, vegetables and edible plants are transformed into vibrant color solutions suitable for all application categories.
Gold Coast Ingredients
Booth 19
Gold Coast Ingredients is a privately held and operated, wholesale flavor and color manufacturer located in California and Pennsylvania. With us you will find Organic, Natural, Non-GMO, Allergen-Free and other flavors available as liquids, powders, powder encapsulations, emulsions and advanced extractions. Our flavors are compatible with any product requirements.
Golden Peanut & Tree Nuts
Booth 30
Golden Peanut will be exhibiting a variety of roasted, defatted peanut flour, roasted peanut oil and peanut extract.
Goodhart Sons, Inc.
Booth 24
We will have representatives from the fabrication aspects of tanks, mixers, melters, coolers, pressure vessels, etc. In addition, our team will also be able to assist with most "balance of plant" work as well as installation.
Goodway Technologies
Booth 102
See our innovative dry steam cleaning solutions and customizable belt cleaning solutions that help remove soils, wax, overspray's, allergens, and more while preparing surfaces for more efficient sanitizing.
*Grain Processing Corporation (GPC)
Booth 69
Grain Processing Corporation (GPC) offers a complete line of MATRIN® maltodextrins, corn systrup solids, tapioca maltodextrins and tapioca syrup solids plus corn-based confectionery starches. MATRIN® maltodextrins are used to reduce fat and provide sweetness moderation in a wide variety of products. Technical literature demonstrates the success of GPC ingredients in delaying sugar crystallization in hardboiled candies, reducing stickiness in fruit preparations and improving strength and mouthfeel of compressed tablets. PURE-COTE® and INSTANT PURE-COTE®, novel film-forming modified food starches, reduce exceptionally clear and strong coatings in panning applications. Information is also available on PURE-ST® confectionery starches, INSCOSITY® instant starches and PURE-GEL® stabilized starches. Contact GPC for samples and answers to all your technical questions.
Graybill Machines, Inc.
Booth 68
Graybill Machines' provides expert application of product handling techniques and a careful focus tailored to customers unique production needs. Specializing in designing and building innovative machinery, is often tasked with addressing difficult automation situations related to new product development, increasing process efficiencies, and the automation of labor-intensive processes.
Guittard Chocolate Company
Booth 116
Guittard Chocolate Company will display organic and specialty blended chocolate.
HDM USA
Booth 40
HDM USA will be displaying all of our brands, Bauermeister, MacIntyre, Petzholdt, Heidenauer and Probat! From powdered sugar grinding mills, compound coating systems, state of the art Five Roll Refiners, Vertical and Horizontal Conches, Winnowing, and the most comprehensive line of roasters for cocoa, nuts or grains! Complete traditional chocolate lines, and cocoa processing from small to industrial scale.
Herbstreith & Fox
Booth 28
Confectionery samples using pectin and/or fibers as the texturizing ingredient, including various samples of gummies. Also, the natural brown color Herbarom in some confectionery applications.
*Hilliards Chocolate System
Booth 110
Exhibiting chocolate tempering and coating equipment.
*IFC Solutions
Booth 91
Virtually a one stop shop for your ingredients needs! IFC Solutions carries a wide variety of food colors (including natural, organic, and pearlescent) to create bright and eye catching looks to your confectionary products, anti-stick agents to help aid in your production process, specialty lecithins for your natural and organic emulsification needs, as well as a wide variety of other natural and organic ingredients. Stop by our booth to see example of our ingredients in candy products as well as watch videos of how our anti-stick agents can help improve your production process.
Industrial Food Ingredients
Booth 77
Industrial Food Ingredients will display cookie/baked inclusions, dried fruits, fruit powder nuts, chocolate, cocoa powders, and peanuts/peanut butter.
Ingredion Incorporated
Booth 35
Ingredion Incorporated is a leading global ingredient solutions provider. In a world that rewards the agile, inventive and sustainable, Ingredion has the people, proficiency and passion to help you anticipate what's next and succeed.
International Flavors & Fragrances (IFF)
Booth 15
We're more than just an ingredients supplier. We're an essential partner creating the future of innovative food & beverage experiences and helping people live better, more fulfilled lives. We're here to redefine the industry by nourishing the future.
IPCO US LLC
Booth 81
We will be demonstrating the machinery for depositing and cooling chocolate chips, chunks and decorative products. Our demonstrations will take the form of samples, literature and videos showing our machinery in action. Our experts will be on hand for consultation about specific applications.
Jenike and Johanson
Booth 115
Jenike & Johanson are engineering consultants for powder and bulk solids storage, handling, conveying and processing.
J. Horrocks Design, LLC
Booth 113
JH Design develops, creates, and supplies custom ingredients and food products. Blentté is our dry blend line. Offering custom organic, NonGmo, and clean label dry mixes for a variety of uses. From flavored milk to smoothie bases, all the way to gluten free pancake mix, Blentté is where we develop dry blends for all needs. SunRoast is our seed butter line. We offer peanut free and tree nut free, nutrition packed, healthy seed butters. Using our specialty roasted sunflower seeds to create our sunflower seed butter, we can pair this with other seeds to supply customized seed blends. Perfect for new products, manufacturers, food service, and retail. Cold Run Creamery is our dairy line. We supply a clean label, premium hard ice cream base, soft serve mix, and our own line of great tasting ice cream. We supply to food service, aspiring ice cream companies, and retail stores.
*Kargher
Booth 43
Specialty baking drops and chocolate nonpareils will be available.
Kerry
Booth 13
Kerry, the Taste and Nutrition Company, deliver optimised taste, texture, and nutrition ingredients to confectionery manufacturers across the globe. Our solutions deliver multisensorial experiences and better nutrition such as gelatin replacement, natural flavouring, and sugar reduction.
*Kocotek
Booth 100
This year, Kocotek and Turbo Systems will be exhibiting at the PMCA conference in a combined space under the Kocotek name in booth #100. We will be highlighting our latest manufacturing technologies in the chocolate, confectionery, nut, and baking industries.
Malt Products Corporation
Booth 12
Malt Products your source for natural and organic sweeteners. Malt – Molasses – Tapioca Syrup – Rice Syrup Agave – Invert Sugar – Honey – Panela.
MANE Inc.
Booth 87
MANE is exhibiting on-trend confectionery/snack concepts showcasing MANE's expertise in natural flavors, proprietary technology, and flavor delivery systems.
Manna Foods LLC
Booth 21
Manna Foods will be presenting their co-packing services at this years PMCA.
*Mantrose-Haeuser Co., Inc.
Booth 25
Mantrose-Haeuser will showcase its world leading natural edible coatings and ingredients lines at PMCA. Our products provide functional and aesthetic benefits for confections including high gloss, barrier properties and anti-sticking functions.  We offer both conventional and organically certified products providing a wide variety of options for confection manufacturers.
*Manufacturing Confectioner/MC
Booth 18
The Manufacturing Confectioner magazine is the global source for chocolate, confectionery and sweet baked goods information, including businesses, technology and marketing news. MC also publishes the Worldwide Directory of Ingredients, Equipment and Packaging. MC also offers technical chocolate and confectionery books.
Master Martini USA
Booth 109
Italian producer of high quality Chocolate, Patisserie Ingredients, and Gelato
*Molded Fiber Glass Tray Co.
Booth 54
MFG Tray will be exhibiting reinforced plastic starch trays and various in process holding trays.
Mother Murphy's Flavors
Booth 22
Natural trending flavor solutions for hard candy, soft chews, chocolates, chewing gum, nut clusters, inclusions and so much more.
NETZSCH Premier Technologies
Booth 58
NETZSCH will exhibit processing technologies for manufacturing confectionery products such as chocolate and fillings.
Nutrin
Booth 84
Providing conventional and organic peanut flours partially defatted, split, and chopped peanuts, peanut butter/paste. Also, peanut oil and extract.
ofi
Booth 27
Ofi is a key cocoa ingredient supplier to the global confectionery industry.
Palmer Holland
Booth 79
The intersection of taste, texture, health and convenience is where Palmer Holland Health & Nutrition has uniquely positioned our ingredient portfolio. Derived only from grain. Fruit, marine, and algal-based raw materials. These ingredients help our customers formulate consumer-friendly, clean-label, and on-trend solutions that drive new demand in all industry segments. Supplementing this portfolio with real-time market research, competitive intelligence, and technical service provides a strong value-add proposition to each of our commercial partners. All of this and more from an experienced, specialized and highly focused sales team is why Palmer Holland is your source for natural nutrition!
Parker Ingredients LLC
Booth 48
Parker Ingredients, a subsidiary of Kane International Corporation – est.in 1931, featuring its edible coatings/polishes for the confectionery, food, and pharmaceutical markets, providing a singlepoint-of-access for your product to SHINE! Whatever your requirements; an amazing shine, sealing of your center or an anti-stick for your gummies – we have you COVERED!!
Precision Roll Grinders Inc.
Booth 83
Precision Roll Grinders display will include services offered and photos of before and after rebuilds.
*PROVA
Booth 98
PROVA, your natural choice for sweet brown extracts and flavors since 1946. PROVA is a market leader in extracting vanilla, cocoa, coffee, caramel and more. Our outstanding products include natural and organic extracts, natural and artificial flavors, available in liquid and powder forms. We specialize in highly concentrated and functional extracts, that enable increased flavor impact and shelf life. The applications for our flavors and extracts span across beverages and bakery, confectionery and desserts, nutritional bars, and nutraceuticals and more. Our highly skilled flavor experts welcome the opportunity to collaborate with you on your next project. Create with us today and taste the PROVA difference.
Pyure Brands
Booth 64
Pyure Sweetness Ingredients are trusted for taste & quality by millions of manufacturers, retailers & families who insist on living a healthy lifestyle without sacrificing sweetness. We process & supply a variety of high & low intensity sweetener systems in liquid, powder & specialty agglomerations.  Come taste our delicious t No-Sugar-Added Chocolate Chips and Compound Coatings which add healthy indulgence to ready-to-eat bars, confections, frozen foods, deserts & snacks. Check out the cleanest tasting Stevia Extracts, Erythritol, Xylitol, Allulose & No-Sugar-Added Chocolate at Pyure Ingredients booth# 109.
*Readco Kurimoto, LLC
Booth 72
Readco Kurimoto, LLC will be exhibiting their versatile and robust Continuous Processor. The Continuous Processor is a twin shaft, co-rotating processor, designed to mix one or more dry materials with one or more liquid materials on a continuous basis. This continuous process produces a homogeneous product that increases product quality and consistency, reduces cycle time, and eliminates unnecessary or anachronous equipment. Readco Kurmoto, LLC is a full service continuous solutions provider.
*Roquette
Booth 37
We increasingly want satisfying food choices we can feel good about and that better fit a healthy lifestyle. At Roquette, food producers only find high-quality ingredients – and discover a range of plant-based solutions: plant proteins, soluble fibers, polyols, etc. We offer you nutritional, texturizing and cost-efficient solutions to help you formulate high-quality products for every kind of application.
Accomplish all with the close support of Roquette's multidisciplinary teams!
*Savage Bros Co.
Booth 62
Savage Bros co will have brochures available on their equipment.
Scala-Wisell International, Inc.
Booth 78
SWI will show its coconut portfolio, glace fruits, hazelnut portfolio, nonpareils and sprinkles.
Shick Esteve
Booth 66
As the only global provider focused solely on the food industry, Shick Esteve will be showcasing the latest in ingredient automation solutions and process design. Our expertise includes process design and automation of bulk, minor/micro and liquid ingredients. Project services include engineering, project management, testing, site services and after sales support.
Skjodt-Barrett Foods, Inc.
Booth 86
Since 1985 Skjodt-Barrett has been a collaborative partner within the North American food industry – providing formulation development and manufacturing services across a multitude of product categories including Functional Caramel Layers for Nutraceutical Bars, Fruit-Based Spreads and Fillings, Confectionery Fillings & Toppings, Aseptic Fruit Preparations Sauces, and Marinades, Baby Food and Children's Snacks and Active Adult Focused Fruit Based Purees with Functional Ingredients. In doing so, we service a range of industry segments and applications including Grocery, In-store and Industrial Bakery, Foodservice, Dairy, and Industrial Confectionery – offering a variety of retail-ready as well as bulk packaging options to meet your specific needs. Our state-of-the-art facilities located in Lebanon Indiana and Brampton Ontario hold the most advanced quality certifications and are frequently audited by national retailers, major brands, and regulatory agencies. Our uncompromising commitment to food safety and quality, world class manufacturing and customer-centric approach sets us apart as the preferred and trusted partner.
*Sollich North America, LLC
Booth 75
Sollich North America represents Sollich KG, Chocotech and Dumoulin. These companies are the world's leading suppliers of processing equipment for the confectionary and snack industries. Their combined ranges cover: enrobers, tempering systems, cooling tunnels, bar forming, cooking, panning and more. Sollich North America will display Sollich's tabletop temper metering device: Tempermeter E6. The unit features a large touch screen display, Ethernet and USB connectivity, memory for 10,000 measurements and complimentary software to analyze and compare previous measurements. The unit can be calibrated on site with an included calibration probe. We will have brochures and presentations for all Sollich, Chocotech and Dumoulin equipment available and will display videos upon request. The booth will be staffed by Sollich North America Sales Engineers to best answer your questions.
Sweegen
Booth 17
Confections are the most challenging category for sugar reduction due to the functionality of sugar in the confection matrix. Our team of experts has developed a portfolio to overcome the formulation challenges and deliver sugar reduced irresistible treats such as gummies, hard candies, and chocolate confection perfection. Our Taste Modulators take wellness forward in confectionery. Our bitter blockers target multiple bitterants, including theobromine, enabling manufacturers to use more heart healthy ingredients like dark chocolate, in their products. Combining taste modulation with our Signature Stevia technology allows for up to 100% sugar reduction with a taste profile in sweetness and mouthfeel comparable to sugar.
*Tate & Lyle
Booth 63
Ingredient solutions for effective sugar and calorie reduction.
TCF Sales
Booth 45
TCF Sales provides equipment and tools to support the full range of Chocolatiers and Chocolate Makers from lower volume artisans to larger production semi-industrial producers. Find individual machines needed to melt, temper, enrobe or mold chocolate, as well as complete integrated systems to produce at higher volumes. Also, find equipment for candy makers including depositors and mixing/cooking solutions.
Temuss Products Limited
Booth 65
Temuss will be exhibiting our Naturelac line of edible shellac based confectionery glazes. Staff will also be available to discuss custom applications as it may pertain to specific customer requirements. Temuss has built their reputation on always providing prompt service and delivery. All of our glazes are produced in our single use facility and are both Kosher and Hal'al.
Tomric Systems Inc.
Booth 73
Tomric will be highlighting the Selmi Chocolate Machinery line of chocolate handling equipment. The Selmi line includes continuous automatic tempering, enrobing, cooling tunnels, panning and mould spinning equipment. Tomric provides innovative custom packaging solutions for the confectionery, baking and biscuit industries.
*Transcontinental Multifilm Inc.
Booth 38
Transcontinental Multifilm will exhibit a wide range of flexible packaging products for confections, including twist wrap, flow wrap, foil wrap, bags, pouches, and much more.
*TRICOR Systems, Inc.
Booth 60
TRICOR Systems, Inc. the world standard in chocolate temper measurement will be exhibiting the Model 530 and Model 225 Chocolate Temper Meters to help confectioners achieve perfect chocolate. Information on the Model 600 Imaging Spectrophotometer for the measurement of confections color and packaging will also be available.
Union Process Inc.
Booth 112
Union Process will exhibit there attritor milling technology.
*Varick Enterprises, Inc.
Booth 53
Varick will display a full line of brochures and videos presenting Nuova Euromec Srl. hard candy, chewy toffee and gum (solid or filled) confectionery/nutraceutical;/pharmaceutical processing and sorting equipment; and from Confitech Srl. batch and continuous metering, mixing, cooking systems and processing laminating and cooling systems information including its evolutionary VXP 300 Vacuum Expansion Line.
VernDale Products, Inc.
Booth 117
VernDale Products will be providing free samples of different powders that they manufacture.
Viking Pump
Booth 85
Viking Pump offers a leak-free solution in the CHC Series™ made with our patented O-Pro® Seal technology. O-Pro® Seals utilize a series of O-rings to create a robust seal and lubrication chamber, all in one. These keeps chocolate product where it belongs- inside the pump and off your floor
*Woody Associates, Inc.
Booth 67
Woody Associates will be exhibiting the Woody Stringer, a fully automatic chocolate and icing decorating machine for the confectionery and bakery industry. On display will be a typical Woody Stringer for a small production line. Various decorative possibilities will be shown using the stringer. Technical personnel will be on hand to answer questions and to discuss how the Woody Stringer can be adapted to fit any size or speed production line.
*WRH Industries, LTD
Booth 99
WRH will be exhibiting unbreakable plastic drying, stock, panning and carrier trays as well as our flexible molds. Introducing our new de-molding system for flexible molds.